Things You'll Need
Approximately 2 to 3 dozen fresh flowers or small bunches of fresh flowers

Scissors

Floral or craft wire

Floral tape

Wire cutters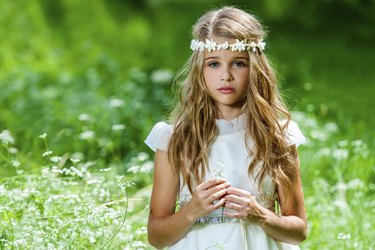 Sweet-smelling, real flower crowns are beautiful when used to adorn the head of a bride and her wedding party, to celebrate May Day or simply to welcome the advent of spring. Little girls love flower crowns too, and with a little help, your little fairy princess can create her own lovely hair accessory. Flower crowns can be made in less than 30 minutes with a few simple supplies.
Step 1
Choose any flower you like, such as jasmine, stephanotis, baby's breath, daisies, bluebells, carnations or orchids. Wildflowers work beautifully in real flower crowns, or take advantage of bright yellow dandelions that appear every spring. The number of flowers depends on the size of the crown and the types of flowers, but most crowns require approximately 2 to 3 dozen individual flowers or small bunches of miniature flowers.
Step 2
Cut the flowers with scissors, leaving 4 to 5 inches of stem on each flower.
Step 3
Cut a piece of floral or craft wire long enough to wrap around the crown of your head twice. Make a hoop shape that fits comfortably on your head and secure the ends with a small piece of floral tape.
Step 4
Place the stem of a flower on the hoop and secure it with floral tape. Leave about 2 inches of floral tape so you can tie a knot when you finish the crown.
Step 5
Overlap the next flower over the stem of the first flower and continue to secure the stems to the wire with floral tape. Add flowers until the entire hoop is covered and you can't see the floral tape. Tie the ends of the floral tape.
Step 6
Trim any long stems that protrude from the flower crown.
Tip
Floral crowns also can be made with artificial flowers.
If you have access to long, flexible branches, they can be used in place of floral wire.