Things You'll Need
Sandblaster

Plastic sheeting

Mask

Goggles

Gloves

Dish soap

Bucket

Sponge

Paint

Paintbrush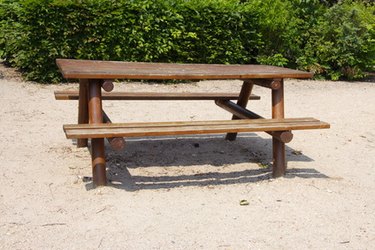 Don't overlook a good-quality piece of wooden furniture just because it is covered with layer-upon-layer of old paint. You can make any piece of furniture look great again by removing the old layers and starting fresh. Sandblasting is a quick and easy way to remove old paint and get a piece of furniture ready for refinishing. Keep in mind that sandblasting is extremely messy. Work outside if possible and give yourself plenty of room.
Step 1
Hang four pieces of 6mm-thick plastic from floor to ceiling to create a work booth if you decide to sandblast indoors. Lay plastic sheeting on the floor as well. Make sure that you have at least 5 feet of space around all four sides of the furniture that is to be sandblasted.
Step 2
Put on a mask, gloves and goggles. Wear long sleeves and long pants to protect your skin.
Step 3
Position yourself roughly 5 feet away from the furniture. Turn on the blaster. Move the nozzle back and forth slowly. Step closer to the object until the sandblaster starts removing the paint. Remove all of the paint.
Step 4
Wipe down the furniture with a damp towel to remove all sand particles from the surface.
Step 5
Sand the surface with fine-grit sandpaper. Sanding will smooth out any imperfections left by the blaster. Move the sandpaper with the grain of the wood to create the smoothest surface possible. Wipe away any sanding dust.
Step 6
Dip a good-quality paintbrush into wood stain. Brush the stain onto the wood. Allow the stain to soak into the wood for one to two minutes. Wipe away the excess stain with a rag. Reapply the stain until you get a depth of color that you like.
Tip
Try using the sandblaster on a piece of scrap material before moving on to the furniture. The equipment may take a few tries to get the hang of.