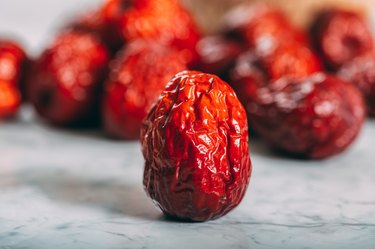 Drying jujube fruit (Ziziphus jujuba, USDA plant hardiness zones 6-11) is a great way to preserve the fruit and eat it later. Dried jujube fruit can be added to dishes or eaten on its own as a delicious snack. However, you may still find yourself wondering how to dry jujube fruit. The process may seem complicated or like there are too many steps involved, but it's pretty easy once you learn how to dry jujube.
The jujube fruit is known by many names, including Chinese date, red date or Ziziphus jujuba, its scientific name. This round red fruit has been grown in China for over 4,000 years and has been growing in the United States for more than 175 years. It doesn't require much water once you have established the plant, and it does well in warmer climates. The size of the jujube fruit can vary greatly, ranging from cherry-size to plum-size.
There are several ways to dry jujube fruit. You can use a machine like a dehydrator or your home oven, but the steps will vary depending on the freshness of the fruit. Boil the fruits in hot water for one to two minutes and then quickly transfer them to a bowl of cold water or ice. This temperature shock will cause the fruit skin to open, making it easier to dry the fruit. Then, you should soak the fruit in the cold water for at least 10 minutes.
From there, you'll want to remove the fruit from the bowl and dry the fruit thoroughly. Spread the fruit evenly on a baking sheet lined with parchment paper. This parchment paper ensures that the fruit doesn't stick to the pan. Set your oven to the lowest temperature and bake.
The time required for drying will depend on your personal preference. Some people prefer their dried jujube fruit to be baked for six hours, while some bake theirs for up to 36 hours. Check on your fruit often to determine the right level of dryness for your family.
There are countless ways to eat jujube fruit. While fresh jujube fruit isn't as popular in the United States as it is in other parts of the world, it's gaining popularity for its unique texture and flavor. Some people compare the taste of a raw jujube fruit to that of an apple. Their dark-colored, nearly maroon skin wrinkles when ripe and is the best indicator of ripeness. You can choose to remove the pit inside with a coring tool before eating the fruit.
They're eaten raw in dishes like salads or even on their own as a snack. They make a portion of excellent food for traveling and camping, as they're small and easy to pack. You can also bake them into cakes and pies, making for a sweet dessert. They're not just used for sweet dishes; you can also roast these versatile fruits or add them to meat and vegetable dishes.
Health Benefits of Jujube Fruit
Practitioners of traditional Chinese medicine have used the jujube fruit for thousands of years. These medicinal experts have also used jujube fruit as a sleep aid for countless patients. With that in mind, it's not surprising that jujube fruit has several health benefits. Some health experts believe that the fruit helps with digestion and constipation due to its high fiber content. A 100-gram serving of dried jujube fruit has a whopping 6 grams of fiber; these tiny fruits pack a lot of punch.
Jujube fruit is also rich in antioxidants, including high concentrations of compounds like flavonoids, polysaccharides and triterpenic acids. These high levels of antioxidants and other materials may prevent certain types of cell damage that can be caused by free radicals. Free radicals are things like air pollution, cigarette smoke and even sunlight. Jujube fruit is also high in vitamin C, a vital vitamin for better immunity that is primarily found in citrus fruits.