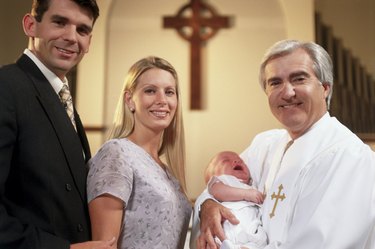 The dedication of a baby is a religious ceremony where the parents make a promise before God and the church to raise their child in the ways of their religion. It is a public opportunity to declare the intention of the parents to set an example for their child and to teach them religious beliefs and ideals. A baby dedication is a joyful time to celebrate new life, and friends and family are usually invited to the church to witness the ceremony. Invitations should be sent out a few weeks prior to the dedication so people can save the date for the ceremony.
Step 1
State who is hosting the baby dedication. For example, "John and Sarah Glenn joyfully invite you to the dedication of their daughter Victoria Glenn."
Step 2
Add a line explaining the significance of the ceremony. For example, "We are excited to celebrate the entrance of our daughter into God's family" or "We happily acknowledge Peter and Clarissa Jones as her godparents and spiritual teachers."
Step 3
Include the date, time and location of the ceremony. For example, "The dedication will be held Sunday, September 12, 2010, at 10 o'clock in the morning at Saint Paul's Cathedral, 228 Main Street."
Step 4
Include the details for any luncheons or social get-togethers you're holding afterward. For example, "After the ceremony, please join us for tea and pastries at Greene's Cafe, 34 Lakeview Road."
Step 5
Request that guests RSVP by a certain date, or you may request regrets only. One line expressing your choice is acceptable: "Regrets Only" or "RSVP by September 5, 2010."
Step 6
Add a favorite Bible verse if you are printing the invitations at home on your computer. Some good ones referring to children are Proverbs 22:6 and Deuteronomy 6:7. Store-bought invitations can be found with Bible verses or religious quotes on them already.
Tip
Titles such as Dr., Mr. and Mrs. can be used before the parents' names for formal invitations. Numbers in dates, times and addresses can be spelled out for formal invitations.