Things You'll Need
Insulation batts for ceiling

Stapler

Staples

Insulation rolls for walls

Styrofoam sheets for overhead door

Construction adhesive

Caulk gun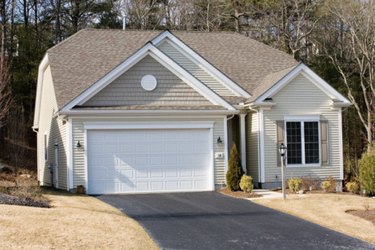 Garages are typically unheated and uninsulated. In the winter they are cold, uninviting places; summer turns them into sweltering ovens. Adding insulation to a garage will help moderate temperature extremes, particularly if the garage space is attached to a house. Insulating an attached garage may help lower heating and cooling costs, since it provides a buffer space between the home's interior and the outdoors. Building codes differ by jurisdiction, so be sure to check your local building department for requirements -- many will require you to install a wall covering once the insulation is in place.
Step 1
Place insulation batts in the spaces between the garage rafters. Face the paper backing toward the inside of the garage. Staple the paper flanges of the batts to the inside face of the rafters with your staple gun to hold the insulation in place.
Step 2
Measure any short sections of the ceiling that remain open. Transfer the measurement of one section to an insulation batt. Place a piece of scrap wood under your measurement line, then cut through the insulation batt with the utility knife. Fit the cut piece between the rafters and staple it in place. Repeat for the remaining sections of the ceiling.
Step 3
Measure the length of the garage wall cavities. Unroll part of the insulation roll and mark the measurement for the first wall cavity. Cut the insulation to length with the utility knife. Repeat for all the wall cavities.
Step 4
Install the cut pieces of insulation in the wall cavities, with the paper backing facing inside the garage. Staple the paper flanges to the studs. Fit the insulation around electrical boxes, pipes and other obstructions by cutting away the insulation around the obstruction.
Step 5
Trim insulation to fit between studs that are spaced closer than the width of the insulation. Cut the insulation slightly wider than the space, then peel it back from the paper for stapling.
Step 6
Measure and cut Styrofoam rectangles to fit into the garage door panels. Apply small amounts of construction adhesive with the caulk gun to the Styrofoam rectangles to hold them in place.
Tip
24-inch bar clamps fastened between rafters will hold the insulation in place as you staple it up.
Plan to cover the insulation on the ceiling with 5/8-inch drywall and seal the joints with joint compound and tape. On the walls, use 1/2-inch drywall. The drywall does not have to be finished, just taped.
Warning
It is important to wear a dust mask, safety glasses, gloves and a light, long-sleeve shirt for protection when working with fiberglass insulation.
Use care when working on ladders. Never climb higher than the second step from the top.