Things You'll Need
Hammer

Chisel

Patching compound

Tape measure

Vapor barrier

Utility knife

Foil tape

Styrofoam board insulation

Adhesive

Pressure-treated 2-by-4 boards (sill plates)

Masonry screws

2-by-4 boards

Nails

Drywall

Drywall screws

Joint compound

Drywall tape

Sandpaper

Primer

Paintbrushes

Paint

Level

Cement-based leveling compound

Thinset mortar

Floor tiles

Grout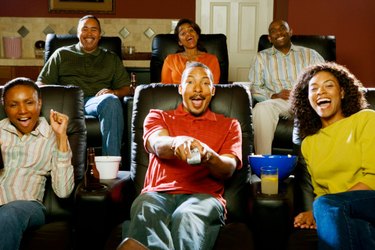 An unfinished basement can serve as more than storage space and the location of your home's water heater and furnace. It's space inside your home that can be converted for other uses, including a spare bedroom, media room, game room or home office. Finishing and converting your basement can provide you and your family with a new living space and also help raise the value of your home.
Step 1
Inspect the concrete floor and walls for cracks. Patch any cracks you find by chiseling away at the area around the crack with a hammer and chisel. Dig deep enough to go beneath the crack, then fill the crack with patching compound.
Step 2
Cut sheets of vapor barrier to fit the height of the wall plus 2 inches. Attach the vapor barrier to the walls with foil tape, covering the walls and the joint where the walls and floor meet. Overlap adjacent sheets of vapor barrier by 4 inches.
Step 3
Apply adhesive to the back of Styrofoam insulating boards, and place the boards horizontally on the walls. Stagger the boards so the joints between them don't line up, and press them firmly against the walls.
Step 4
Install any needed plumbing and electrical fixtures. Hire licensed professionals to complete this work if local building codes require it, or if you don't have the knowledge to do it yourself.
Step 5
Attach sill plates to the floor around the perimeter of the room with masonry screws. These are pressure-treated boards that connect the wooden frame of the walls to the floor.
Step 6
Measure the distance between the sill plates and the ceiling joists, and construct wall frames to match the height with standard 2-by-4 boards. Generally, the studs in a wall frame need to be 16 inches apart, but follow your local building codes as it may vary. Nail the frames to the sill plates and ceiling joists.
Step 7
Install drywall to the ceiling joists and wall studs with drywall screws.
Step 8
Apply joint compound to the gaps between the drywall sheets, and cover the joints with drywall tape. Allow it to dry, then sand it down.
Step 9
Paint the ceiling and walls with a coat of primer and allow it to dry.
Step 10
Paint the ceiling and walls with two coats of paint.
Step 11
Check the floor for level. Fill in any low spots with a cement-based leveling compound.
Step 12
Tile the floor. Spread thinset mortar to the bare basement floor, and place the tiles on top of it. Grout the gaps between the tiles.
Tip
Contact your local zoning board before beginning construction to learn your local building codes and acquire any needed permits.
Warning
If cracks in your basement are larger than a inch wide, have them inspected by a professional. This can be a sign of serious problems with your foundation.