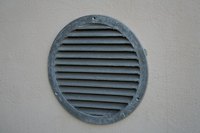 Venting your attic helps hot air escape during harsh summer months when attic temperatures can exceed 150 degrees. A simple way to vent your attic is to install a gable vent on each side of the building. Gable vents have a series of downward-sloping louvers that allow hot air to escape while preventing water from penetrating the attic. Gable vents can be made from wood, metal or a prefabricated material to match the stucco exterior of your home.
Things You'll Need
Drill and drill bits
Reciprocating saw
2 1/2-inch screws
2-by-4 studs
Pencil
Tape measure
Staple gun and staples
Screwdriver
Flashing paper
Caulk gun with caulk
Ladder
Determine the size of the gable vent you need for the attic. You need 1 square foot of ventilation for every 144 square feet of attic floor space.
Measure the length and width of the vent back so you know how large to make the frame for the gable. Mark the location you will install the gable on the interior attic wall.
Cut two 2-by-4 studs to fit in between two vertical studs on the inside of the attic wall. Position one stud at the top of your gable frame and one as the bottom. Screw these in place attaching them to the interior vertical wall studs. So you should have two horizontal studs parallel to each other that equal the height of the gable.
Cut two 2-by-4 studs to fit snugly between the horizontal frame components you installed in Step 3. Position these vertical frame studs the width of the gable frame. Screw these in place to the horizontal frame studs.
Drill a hole at each corner. This will let you know where the gable dimensions are from the outside.
Climb the ladder and cut the opening from the outside with a reciprocating saw from drill hole to drill hole. Be careful to not saw the internal frame you just installed.
Install flashing around the exterior stucco opening. Flashing creates a barrier to prevent moisture from seeping into the walls. Apply a layer caulk under the flashing paper to create a permanent seal and staple the paper in place with a staple gun, making sure there are no creases or gaps in the flashing. Overlap flashing paper by 2 inches several times around the opening. Fold any excess flashing paper into the opening.
Position the vent over the opening, double-checking that it is plumb to the frame. Screw the vent in place, locking it to the internal frame you installed earlier.