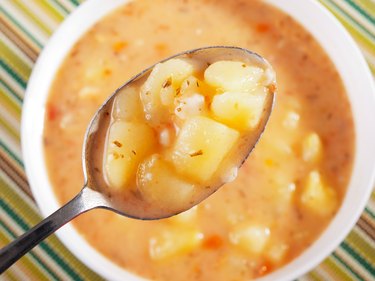 If you've ever watched a cooking competition show, you've probably seen a professional chef get dinged for making soup too salty. It really does happen to everyone. You might put too much salt in soup because you're afraid it's going to be flavorless. Maybe you didn't account for how much salt was already in your broth, or maybe the lid of the salt shaker fell off at the worst possible moment. You'll be more careful about tasting things before adding salt the next time. For now, fixing potato soup that's too salty to eat is all about adding more components to bring the dish into balance.
You can't easily remove too much salt in soup, especially potato soup. Potatoes and cooked vegetables absorb a lot of salt from cooking liquid, so every element of your soup is probably overseasoned. Instead of trying to remove anything from a too-salty potato soup, use some flavorful add-ins to boost the sweet, salty and acidic notes of the soup and create balance.
Potato soup usually has such a mild flavor that it can be paired with a lot of different flavors in your kitchen. Drizzle in honey a teaspoon at a time. Molasses will also add sweetness and could be a nice complement to any bacon you're using in the soup. Add heat to the salty soup with chili powder or a Cajun spice blend.
For acidity, add a drizzle of apple cider vinegar and/or a few spoonfuls of tangy Greek yogurt. The latter is an especially key ingredient for fixing salty potato soup because it'll make the soup deliciously creamy and rich. Adding more garlic and onions can also help mask the flavor of too much salt in soup.
Once you fix up a salty potato soup with more sweetness, heat and acidity, the flavors should be in balance with each other. But the soup's flavor might be overconcentrated at this point, so add more liquid to dilute everything until it tastes right to your palette. Don't add more chicken or vegetable broth from a container unless it has low or no sodium. Adding milk, cream or even coconut milk will help mellow out everything.
If your potato soup is already fairly thin, you might not want to add more liquid. Add more bulk to dilute the strongly flavored broth and potatoes. Cook diced carrots, finely chopped celery, green beans, corn and/or whatever vegetables you want in a separate pot of unsalted water until they're tender. You can also add shredded or cubed chicken to the soup or even bulk it up with bread. Add shredded bits of sourdough, which will quickly absorb and thicken the soup, or stir in unsalted croutons baked with garlic and olive oil.
Some people say the key to fixing gravy or soup that's too salty to eat is to submerge a whole peeled potato in the liquid and let it cook for 30 minutes or so. The idea is that the potato will absorb some of the salt, and you can then fish out the potato before you serve the soup or gravy. But if your potato soup is already fully cooked, you don't want to put it back over the heat for 30 minutes where it might start to burn; plus, this method won't necessarily make a big difference.
A better option is to boil or bake diced potato cubes until they're soft and then mash them and stir the unsalted potato into the soup. You could also do this with mashed sweet potato to add sweetness and more depth of flavor to your soup.