Things You'll Need
3 pound pot roast

Heavy cast iron lidded Dutch oven or slow cooker

2 ½ cups water

2 envelopes Lipton Beefy Onion soup mix

3 pounds vegetables, peeled, cut into chunks (potatoes, carrots, celery, onions, sweet potatoes)

Whisk

2 tablespoons flour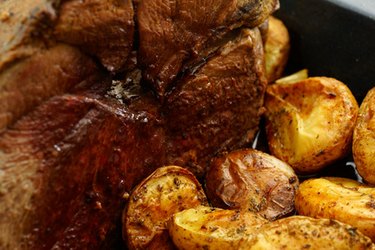 You can cook a comforting meal with a lot of flavor but not a lot of fuss by using Lipton Beefy Onion soup mix as a shortcut to seasoning a pot roast. Look for this dry soup mix in the soup aisle at grocery stores. Using this dry mixture will lower your preparation time, but allow for several hours of cooking. Tough pot roasts benefit from a long cooking process to render them tender and flavorful.
Make Pot Roast in a Dutch Oven
Step 1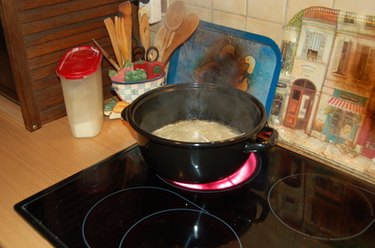 Place the pot roast in the bottom of a slow cooker or Dutch oven.
Step 2
Pour 2 cups water and one envelope soup mix over the roast.
Step 3
Heat a stove to medium to bring the mixture to a boil.
Step 4
Reduce the stove heat to low, and simmer the roast, covered, in the Dutch oven on the stove for two hours.
Step 5
Add the vegetables to the Dutch oven and cook for 30 minutes at medium low or until the vegetables become tender.
Step 6
Whisk together the flour and remaining ½ cup water until blended.
Step 7
Mix the flour and water into the Dutch oven and increase the heat to medium high until the liquid boils.
Step 8
Boil for five minutes or until the liquid thickens. Serve the pot roast with the gravy and vegetables.
Make Slow Cooker Pot Roast
Step 1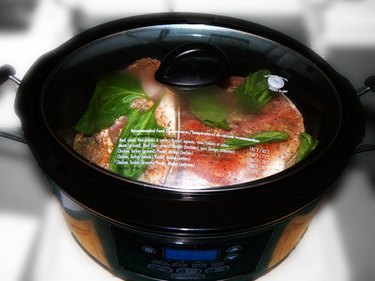 Place into a slow cooker the pot roast, two cups water, two envelopes of soup mix and vegetables.
Step 2
Cook the pot roast on HIGH in a covered slow cooker for four hours or until the vegetables become tender.
Step 3
Remove the vegetables and roast and transfer the liquid to a saucepan.
Step 4
Bring the saucepan to a boil over medium high heat.
Step 5
Whisk together ½ cup water with the flour and stir this into the boiling roast liquid. Cook for five minutes until thickened and serve with the pot roast.