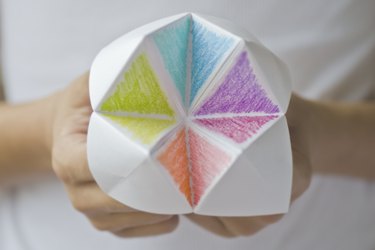 Nothing says "childhood" quite like a cootie catcher. These little paper fortune tellers are easy to make and fun to play with. If you're wondering "what ‌is‌ a cootie catcher?" it's a paper craft that is folded and decorated to produce different answers depending on what question you ask, sort of like a magic eight ball—but in paper!
Maybe you want to make your own cootie catcher to relish childhood nostalgia. Or maybe you want to show your kids how to make one. Either way, we've developed this tutorial to teach you how to make a cootie catcher step by step with pictures. Let the origami fun begin!
Video: How to Fold a Cootie Catcher
1. Cut paper into a perfect square
You need a square piece of paper to make a cootie catcher. If you're starting with an 8.5 by 11 in. piece of printer paper, turn it so the longest size is horizontal and fold the bottom left corner upward to meet the top, creating a folded square. Cut off the remaining rectangle of paper on the right side.
Next, you'll create a sort of template for your folds. You should already have one crease running from the top left corner of the paper to the bottom right. Create an opposite crease by folding the top left corner of the paper down to the bottom right. Your square sheet of paper should now have a creased X.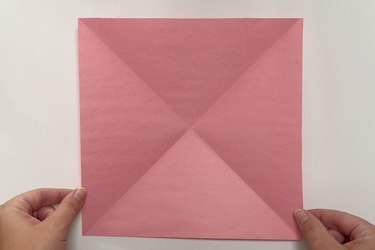 3. Fold corners into the center
We're going to make the square piece of paper into an even smaller square by folding all four corners in toward the center. Use the creased lines of the folded paper to know how far to bring your corners into the center X.
Flip your folded square over to the other side of the paper. Fold in the four corners again, bringing the edges to the center of the creases. Your square will be even smaller now.
5. Reveal your cootie catcher
You're almost finished! Fold the bottom half up and over so the square becomes a rectangular shape. You should have two square flaps on each side. Slip your thumb and forefingers on both hands into these flaps and grip toward the edges of the inside folds. Push the paper in toward itself until the top flaps all lift, creating a shape that can be opened and closed. Now you know how to make a cootie catcher!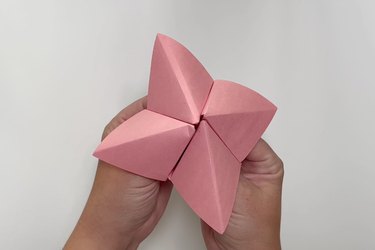 6. Decorate your DIY cootie catcher
While it's fun to fold a cootie catcher, it's even more fun to decorate it and come up with cootie catcher games. The basic cootie catcher template is to put visible numbers on the top flaps, colors on the inside flaps and answers to questions on the hidden flaps that you have to lift the folds to see. We put the numbers 6, 4, 5 and 3 on ours. (Don't put a number higher than 10 if you don't want to have to open and close the cootie catcher an excessive number of times!) Then, we put red, orange, yellow, green, blue, purple, pink and black on the inside flaps.
Tip
Here are some cootie catcher answer ideas for the hidden flaps:
Yes
No
Maybe
Ask again later
You already know the answer
You don't want to know
Don't count on it
Probably
7. Play with your new origami fortune teller!
Now it's time to play! Ask your cootie catcher fortune teller whatever question you're dying for an answer to. You're in for hours of fun thanks to your new paper toy.