The Anderson window and door company began producing wooden products in 1903, and today sells its installations worldwide. The 400 Series gliding windows are made with wooden sashes that can easily be painted or stained to match the design and style of your home. Careful removal of the windows, preparation of the wood, and application of the paint can give your window areas a completely new look.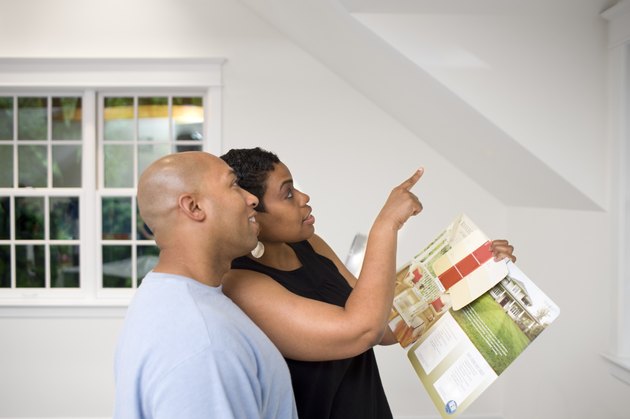 Things You'll Need
Screwdriver

Sandpaper

Compressed air or tack cloth

Stain or primer

Paint gun or paintbrush

Solvent

Paper towels

Urethane or finishing paint

Razor blade
Step 1
Remove the windows from their installation areas. Tilt the windows as though you were going to clean the exteriors, and then release the metallic springs that hold them in place to release the sashes and glass.
Step 2
Place the windows in a well-ventilated work area, such as outdoors or in an open garage. Never use paint and other chemical products in a poorly ventilated area, as fumes can cause illness.
Step 3
Unscrew the window locking hardware with a screwdriver. Take note of the location and direction of each piece of hardware so that you can easily reinstall the pieces after painting. Place the screws and hardware in a safe place while you work.
Step 4
Sand all wooden sash areas with 120-grit sandpaper. Sanding will remove surface dust and dirt, and will also prepare the wood for the new stain or paint. Take care not to touch the glass, as the sandpaper can easily scratch the glass. If you need to, mask off glass areas with masking tape and protective paper or plastic.
Step 5
Clean off sanding dust by spraying the wood and glass with compressed air from a machine or can. You can also wipe down all sanded areas with a tack cloth to collect excess dust.
Step 6
Apply the first coat of stain, or the wood primer if you are using paint. For all stain and paint products, you can use a paint gun or a paintbrush to apply the product. Allow the first coat to dry and apply a second coat if necessary, per product instructions. Allow all initial stain or primer to dry completely before continuing. Consult specific product instructions regarding drying time.
Step 7
Dampen a paper towel with paint thinner, acetone or another solvent and wipe away any overspray on the glass windows. You can do this throughout the painting project if you accidentally paint on the glass.
Step 8
Apply the first coat of urethane or finishing paint with a spray gun or paintbrush. Allow this first coat to dry completely before continuing.
Step 9
Sand the newly stained or painted area with 220-grit sandpaper to ensure a good surface for the final coat. Blow away sanding dust with compressed air or wipe it away with a tack cloth.
Step 10
Apply the second coat of urethane or paint to the windows. Allow this coat to dry completely and inspect your work. Touch up areas or apply a third coat if necessary to achieve your desired color or consistency.
Step 11
Clean the glass with solvent or scrape it with the flat edge of a razor blade to remove any excess paint or stain. Reinstall all locking hardware and put the windows back into place in your home.
Tip
If your initial coatings of stain or primer are uneven, spread the product across the surface using a paintbrush before it dries.
If you also want to paint window jambs, you will need to do those in the house with the windows removed. Follow the same preparation and application procedures, but be careful to protect the walls and floors of your home from overspray or drips.
Warning
Do not paint weather stripping or other non-wood parts of the window. This can change the effectiveness of the seal created by the windows.