Things You'll Need
Measuring tape

Pencil

Paper

Utility knife

Pry bar

Screwdriver

Paint scraper

Sandpaper

Exterior primer and paint

Paintbrush

Wood shims

Caulk

Elastomeric caulk

Foam-rubber backer rod

Minimally expanding spray foam

Finishing nails

Hammer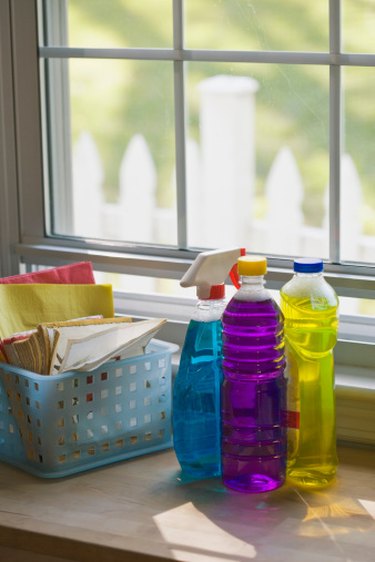 Replacing windows in a home built with exterior vinyl siding can take a bit of hard work. Most windows are removed and replaced from the exterior of the home. Vinyl siding presents a challenging obstacle when replacing windows because of the difficulty and expense of cutting and replacing it. The easiest way to replace windows in a home with vinyl siding is to do the job from the interior.
Step 1
Measure the old window for dimensions for the replacement window, using a tape measure. Measure the window width — from jamb to jamb — at the top of the window. Write these measurements down on a piece of paper. Repeat this same process for measuring the middle and bottom width of the window. Write all measurements down and circle the smallest number.
Step 2
Measure the height of the window, from the top of the window sill to underneath the bottom of the head jamb, at the left, middle and right side locations. Write these numbers down, and circle the smallest. Use the smallest height and width measurements for the replacement window.
Step 3
Cut old insulation, silicone or paint surrounding the window frame with a utility knife.
Step 4
Pry off, or unscrew, any nails and screws attaching the old window to the window frame by using the pry bar or screwdriver, then pull the old window from its frame.
Step 5
Pry off any wooden window trim or jamb liners with a pry bar. Use the notched end of the pry bar to remove all nails.
Step 6
Scrape away any loose paint from the window jambs with a paint scraper.
Step 7
Sand the window jambs until they are smooth. Apply a thin coat of exterior primer onto the window jamb with a paintbrush. Allow the primer to dry. Paint the jamb surface with exterior paint, and allow it to dry.
Step 8
Apply a thick, continuous bead of caulk around the perimeter of the interior windowsill.
Step 9
Insert the replacement window unit into the window frame. Use wood shims and a level to square out the window. Add or remove wood shims underneath the replacement window until it is level.
Step 10
Place a wood shim behind each pre-drilled hole in the replacement window frame and use a drill to screw the screws into the window frame.
Step 11
Score the wooden shims with a utility knife and break off the excess sticking out.
Step 12
Insert elastomeric caulk into any small gaps surrounding the exterior window frame. For bigger gaps, stuff the spaces with foam-rubber backer rod.
Step 13
Spray minimally expanding foam into gaps surrounding the interior perimeter of the window frame.
Step 14
Reinstall all wooden or decorative trim with finishing nails and a hammer.
Warning
Wear protective gear such as goggles, a face mask and gloves.