Things You'll Need
Screwdriver

Sawhorse

Painter's tape (optional)

Putty knife (optional)

Primer

Paintbrush or roller

100-grit sandpaper

Exterior latex paint

Small hammer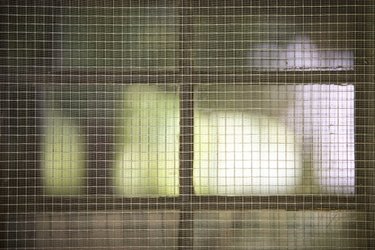 Although most wooden screen doors are manufactured using pressure-treated lumber, you still can paint the wood to add to the longevity of the door. Not only does painting the door increase the strength of the door frame, it helps to color-match the door to the colors you used on your house's trim. Use an exterior latex paint when painting an exterior door as the door comes in contact with the elements.
Step 1
Remove the hinge pins from the hinges on the wooden screen door if the door is hung; place the door on a set of sawhorses. Remove the hinge hardware with a screwdriver.
Step 2
Remove the metal screen from the wooden frame if possible. In most cases, to remove the screen, press a flat putty knife between the screen and the wooden spline that lines the outside edges of the screen. The spline holds in the screen. With the putty knife between the two pieces. twist the knife to raise the spline away from the wooden door. The brad nails that hold the spline onto the door will come out with the spline. With the spline removed, pull the screen off the door. If you cannot remove the metal screen, place painter's tape on the screen where the edges meet the wood.
Step 3
Paint the surface of the wooden door frame with a quality primer. Use a brush or a roller. Paint the sides of the wooden door frame to ensure a proper seal. Allow the primer to dry fully, flip the door over, then primer the backside of the door. Wait for the primer to dry fully before moving on.
Step 4
Dry sand the wooden screen door with 100-grit sandpaper to flatten out any imperfections in the primer. Do not sand through the primer and into the wood.
Step 5
Apply one coat of quality exterior latex paint to the primer painted surface of the wooden door. Paint the edges of the door. Allow the paint to dry, flip the door over, then paint the other side.
Step 6
Apply a second coat of paint.
Step 7
Remove the painter's tape from the metal screen after the paint fully dries. If you removed the screen, place it back on the door, place the spines over the screen, then tack the spline into place with the brad nails that originally held in the spline.
Step 8
Secure the hinge hardware to the screen and hang the door on the hinges.
Tip
If the door is older and has paint on it, scrape the old paint off the wooden surface using a paint scraper, wire brush or sandpaper before applying primer. This helps provide you with a clean look to the paint and avoid excessive paint buildup on the wooden surface.