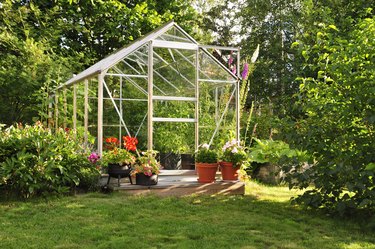 A basic greenhouse structure consists of a floor, a wood or metal frame, an entrance and sealed greenhouse paneling that covers the structure. These are not hard to assemble, but you'll need greenhouse seals to get the job done right.
What Is Greenhouse Paneling?
A greenhouse floor can be bare dirt, gravel, poured concrete, wood decking or metal grates. But unless you want it to turn into a muddy mess, you'll want to finish the floor. Glass is the traditional material used for the panels, but it is costly, heavy and fragile. Modern greenhouses use acrylic, polyethylene or polycarbonate sheeting instead. These types of sheeting are ideal because they have good insulation properties, optimum light transmission and are durable and less expensive than glass.
You can use polycarbonate panels on arch and gable-style greenhouses. However, it's important to note that you have to install them with their ribs running vertically, with the sides, top and bottom edges sealed to keep out dust and dirt. Sealing polycarbonate panels is not a big deal; you'll need 1-inch-wide foil tape for sealing the channels. You can find polycarbonate tape for greenhouses at garden centers and online.
If you have glass panels in your greenhouse, you have to seal them with non-setting butyl mastic or putty. Although these aren't used as widely today as in the past, they offer an excellent seal that sticks to glazing bars and glass. Butyl mastic and putty also work well with polycarbonate panels. Butyl mastic is sold in rolls, cut to size and then stuck onto the bars. This material is very sticky, though, and can be challenging to work with, even if you have a significant amount of experience with that material.
Like butyl mastic, polycarbonate tape for greenhouses is almost like greenhouse weather stripping and can also be placed over old mastic once it is scraped clean. The tape is self-adhesive and quite easy to work with, especially when compared to butyl mastic. It also comes in rolls and adheres to the frame of the greenhouse and not the panels themselves.
How to Clean Greenhouse Panels
Whether made from glass or polycarbonate, greenhouse panels need to be cleaned from time to time. If the buildup gets bad enough, the light won't be able to get in, and bacteria and dust can harm your plants. You'll want a telescoping cleaning tool (a long-handled mop could suffice) to get to the higher parts and the roof and a ladder, in some cases. Set up a cleaning schedule and stick to it.
To get started, you'll need to remove everything from the greenhouse, including the plants and accessories. Then clean your containers and seed trays with warm, soapy water and sanitize them with 3/4 oxygen bleach mixed into one gallon of water.
Brush off the shelving and framework, and sweep the floor to clear it of dirt and debris like leaves. One option for cleaning is to use mild dish detergent and water, but to get in-between the panels, you'll also need a scrub brush or a toothbrush. Otherwise, mold and algae could form here. Be careful with the panels because they scratch easily; you may want to use a non-abrasive sponge instead. If the greenhouse frame is made from wood, apply a vegetable-based, non-toxic horticultural oil with a brush to prevent pest infestations and wood rot.