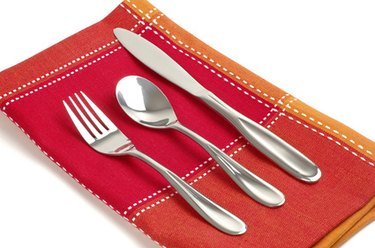 It looks like silver but has a strength more akin to iron. For functionality and beauty, you could do worse than Nambe, an eight-metal alloy created by the Nambe company in the 1940s. The alchemy that created this alloy also made it resistant to tarnishing, chipping, peeling, breaking and extreme temperature changes. So it's also U.S. Food and Drug Administration-approved for cooking and serving food. Caring for your Nambe product properly will give it a shiny patina that, coupled with the handcrafted design, led to Nambe's recognition by the Museum of Modern Art in Manhattan and the 2003 Metropolitan Home Modernism Award.
Step 1
Coat a Nambe dish lightly with vegetable oil before using it to serve acidic foods. This will avoid discoloration and pitting. Better yet, don't serve highly acidic foods on Nambe alloys.
Step 2
Remove all foods from Nambe immediately after serving. Nambe products are not suitable for food storage.
Step 3
Limit cooking and serving utensils to plastic, rubber and wood. This will avoid scratching the Nambe. Never use metal cooking and serving utensils with Nambe.
Step 4
Cook with Nambe only in an oven and on a stove top. Never put Nambe in a microwave oven.
Step 5
Polish dust, fingerprints and other imperfections with a soft, damp cloth. For more serious scratches or residues, you may wish to purchase Nambe Polish, which can be used to clean and buff your product. For total refinishing, you can send your purchase to Nambe, where a skilled craftsman will repolish it for you.
Step 6
Wash Nambe food service items with hot water and a mild detergent after polishing and immediately after each use. Nambe is not dishwasher-safe.
Warning
Nambe products can be quite heavy; use caution around glass items and glass-plated tables.