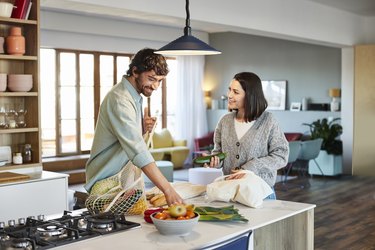 Nambe produces a diverse line of products that are both artistic and practical, including serveware, dinnerware, glassware and decor. In fact, Nambe pieces are displayed in places like the British Museum in London and the Museum of Modern Art in New York. Care instructions for your Nambe products vary depending on the item and what it is made of. There are some guidelines to follow but be sure to follow the specific care instructions provided with your order.
Like Nambe, many companies create dining and serving pieces with stainless steel, crystal and wood, but what sets Nambe apart is its unique alloy. The alloy looks similar to silver but is resistant to tarnishing and chipping. The alloy is a proprietary combination of eight different metals. An additional benefit of the alloy is that it retains temperature, so if you place the piece in the oven or freezer, it will hold the heat or the cold. Nambe products are not microwave safe or dishwasher safe, and you should not leave them soaking in water or use them to store leftover food.
Use Nambe polish to clean the products. Apply the polish to a soft, dry cloth and gently rub the metal for 10 to 15 seconds until a residue forms on the metal. Remove the residue with a polishing cloth. Be sure to wash the piece with soap and warm water before using it to serve or consume food.
Nambe is a unique alloy, and using the polish specifically designed for the product will yield the best results. Avoid using a Nambe polish substitute. If the polish isn't getting the results you want, consider sending in the piece so that Nambe's craftsmen can repolish and restore your item.
Nambe full-lead crystal is blown and hand-cut and is extremely delicate. These items should be gently hand washed with soap and warm water. Use a soft sponge or cloth. After cleaning the crystal, dry the item right away using a soft cloth to prevent spotting. To prevent staining, wash the crystal as soon as possible after using the piece.
These products are not dishwasher safe. Take care to protect the crystal from changes in temperature. For example, if the crystal is cold, don't immediately place it in hot water.
Other Nambe Care Instructions
Wash Nambe wood products by hand using a mild detergent and warm water and dry them right away. Do not soak the wood or wash it in the dishwasher. You can oil the wood periodically using mineral oil. Wash off excess oil after one hour and dry the piece right away. Much of Nambe glassware is also dishwasher safe. Avoid abrupt changes in temperature.
Many of Nambe's stainless steel products are dishwasher safe. Wash these pieces as quickly as possible and avoid soaking the products in water. You can polish these items with Nambe polish or use a mixture of one part water and two parts baking soda as a Nambe polish substitute.
Some product lines, such as Copper Canyon, are placed with food-safe lacquer. The products are not dishwasher safe. Wash them by hand and avoid abrasive cleaners and sponges. Don't use any type of metal cleaner on these products.