Things You'll Need
Acrylic floor polish

Rubber gloves

Cotton denim

Cosmetic sponge

Bowl

Ceramic plate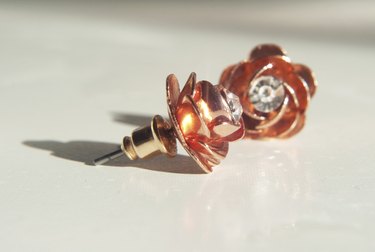 There are many reasons to lacquer a piece of jewelry. Lacquering your jewelry can be an effective way to protect delicate components, prevent tarnishing and create a beautiful surface shine. Whether your purpose is protecting your jewelry or finding the right surface treatment for your handcrafted design, lacquering is a simple procedure almost anyone can master at minimal expense.
Step 1
Prepare the piece of jewelry you want to lacquer. Clean the jewelry thoroughly to prevent dirt, dust or hair from ruining the smooth surface by becoming encased in the polish. Clean any existing tarnish from metal jewelry and avoid touching the piece with your skin before lacquering by wearing gloves. Allow your jewelry to dry completely before starting to lacquer.
Step 2
Pour a small portion of the acrylic floor polish into a disposable, completely clean bowl. Place the piece of jewelry you want to lacquer on a smooth surface like a ceramic plate. Use rubber gloves to keep the acrylic polish away from your skin.
Step 3
Dip a clean cosmetic sponge into the polish and shake off the excess polish. Brush the polish over your piece with the sponge, coating thoroughly. If you are lacquering a pendant, hang it on a piece of wire and dip the entire piece in the lacquer. Shake excess lacquer off gently until the piece is almost dry to prevent drips.
Step 4
Let the piece of jewelry sit for several hours to dry completely. Reapply layers of lacquer after allowing each layer to dry until your piece has several coats. Add coats of polish until you are happy with the surface effect. Buff the jewelry with a piece of cotton denim to polish the lacquered surface once it is fully dried.
Tip
Speed the drying process by placing the lacquered piece of jewelry in a 300 degree Fahrenheit oven for a few minutes.
While jewelry supply stores offer a variety of lacquers made specifically for jewelry, these lacquers are often more expensive and less effective than other agents. Use a high-quality acrylic floor polish for a lacquered surface that is both flexible and durable. Check at your hardware store for the best selection of floor polishes.
Warning
Do not pour the excess used acrylic floor polish back into the bottle or you may contaminate the entire supply.