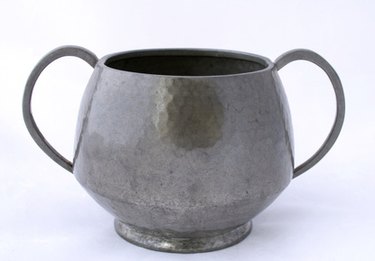 Pewter does not have the glamorous image that other metals have. It does have a down-to-earth, wholesome quality and warmth that more prized and costly metals cannot match, though. It also needs little maintenance. Pewter is a soft metal that can be used to create a wide variety of finished pieces ranging from tiny buttons to large works of art.
History
Pewter objects date back thousands of years to Egypt, China and Europe. They were made as early as 1400 B.C. Used by the wealthy in Europe until the mid-1700s, pewter became more accessible to the masses when it began to be mass produced. In early American history, pewter was a substitute for more expensive silver. Pewter replaced wooden utensils and dishes in many households. When china and pottery became easily available and less expensive, the use of pewter declined.
Composition
Pewter is made primarily of tin, with varying amounts of antimony used to make the pewter harder and copper to make it more malleable. It may also contain silver and bismuth. Older pieces may contain small amounts of lead.
Products
Pewter is used to manufacture serving dishes for cold food, dishes, cups and tankards, candlesticks, knickknacks, buttons and art pieces. It is a good metal for jewelry making.
Cleaning and Care
Pewter can be polished if necessary and then washed. With normal use, washing with hot water and soap will suffice, followed by a thorough rinsing. It does need to be dried completely to prevent formation of water spots, which will mar the surface of the pewter if left to air dry. Acidic foods such as citrus fruits can also damage the surface of pewter. Pewter is a soft metal and can get scratched with knife blades. It should be hand washed and not used on stove tops or in the oven.
Surfaces
Depending on the method of production or the style of crafting used to create a pewter piece, it may have a variety of finishes ranging from a highly polished surface to a dull aged look. It may have a smooth or textured surface.