Things You'll Need
Stud finder

Pencil

Tape measure

Paper

Power drill

1/8-inch drill bit

Level

Wood shims

1 box 3-inch grabber screws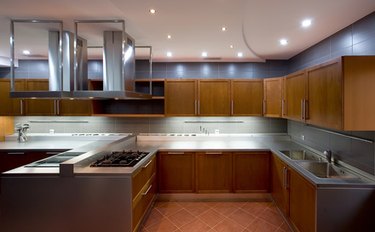 You can install a lazy susan corner cabinet using simple tools. Lazy susan corner cabinets usually have two trays. The trays are mounted to a center rod and can be rotated to allow access to the entire tray. Because of the small door opening of corner cabinets, lazy susan trays make the entire space useful. Lasy susan corner cabinets mount in the corner of a room and are fastened to the wall using grabber screws.
Step 1
Slide the stud finder against the wall until the device beeps. When the device beeps, there is a stud located where the stud finder is. Mark the wall with a pencil at the center of each stud.
Step 2
Measure the distance from the corner of the wall to the center of each stud. Write the measurement on a piece of paper.
Step 3
Measure and mark the the location of each stud on the back of the corner cabinet from the measurements you took in step two so the grabber screw fasten securely to the center of the stud.
Step 4
Drill 1/8-inch holes through the cabinet back at the marks you made in step three. Avoid drilling through cleats (sections of material that runs along the top and bottom of the cabinet), if there are any.
Step 5
Place the cabinet into position. Level the cabinet and add shims where necessary. Shims can be placed between the cabinet and the floor.
Step 6
Fasten the cabinet to the wall using grabber screws and a power drill. Double check that the cabinet has remained level after fastening it to the wall.