Things You'll Need
2 pieces 20 by 6 inches (sides)

2 pieces 13½ by 6 inches (top and bottom)

2 pieces 12¾ by 5 ½ inches (shelves)

2 pieces ¾ by ¾ by 20 inches

2 pieces ¾ by ¾ by 16 inches

One piece 16 by 20 by ¼ inch plywood (back)

Wood glue

Hammer

2d finish nails

2d box nails

6d finish nails

2) ¾ inch Piano hinges with screws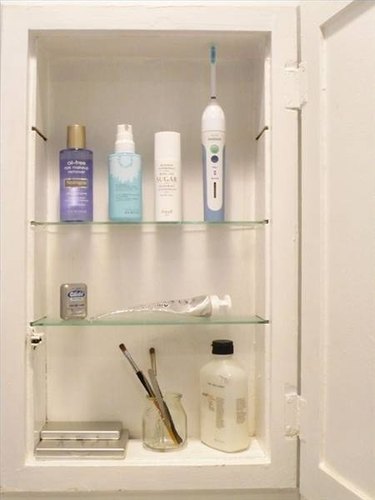 Medicine cabinets are a necessity for a practical bathroom. Building one yourself and adding a mirror to the door is a good do-it-yourself project. Where the trouble comes in for most people is when they want the medicine cabinet recessed into the wall. Given that most walls are constructed with 2-by-4s and have half-inch drywall on either side, the only caution will be where to cut the hole. First, locate the studs in the wall.
Step 1
Lay the two side pieces on the floor next to each other. Allowing for the top and bottom of the cabinet, mark the end pieces where you want the two inside shelves to go.
Step 2
Next, run a bead of glue on one edge of the top piece and secure it to the side piece with 2d finish nails. Repeat this for the bottom of the cabinet and then again to attach the other side panel.
Step 3
Run a bead of glue on the end of one of the shelves, set it in place and secure it with the nails. Next, run a bead of glue on the backs of all the ends and shelves and set the quarter-inch back in place and secure it with 2d box nails.
Step 4
Place some glue on one of the pieces of ¾-by-¾-by-20-inch molding and secure it to one of the sides at the front of the cabinet with 2d box nails. Repeat this for the other side panel.
Step 5
Secure the two pieces of ¾-by-¾-by-16 inch molding the same way you did in Step 4. Measure the back of the cabinet and draw the shape on the wall in the desired location. Cut the drywall with the keyhole saw. Slide the cabinet into the wall and secure it through the side panels into the studs in the wall with 6d finish nails.
Step 6
Make a mark 1½ inches from the long edge of the door at the top and the bottom. These are where you will install the piano hinges for the door. Install the hinges with the screws provided, then hold the door in place and attach the door to the inside of the side panel of the medicine cabinet.
Tip
If you'll be using a mirror, attach it to the door after you install the hinges on the door and before you install the door to the cabinet. Use a keyhole saw to cut the opening in the wall where your recessed medicine cabinet will go.
Warning
Do not cut a hole in the wall without locating the electrical wiring that is in the area where the cabinet will go.