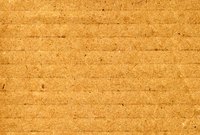 If you're making cardboard furniture or home decorations, it is likely that you will have to purchase very strong cardboard or strengthen the cardboard that you already have. You can strengthen and reinforce cardboard by gluing multiple pieces together, adding a foam core or by covering it with strong epoxy glue. The process you choose depends on the type of project you are working on. If the cardboard needs to remain thin, use epoxy glue. If it doesn't, choose the sandwich or corrugated method.
Things You'll Need
Corrugated cardboard
Epoxy glue
Corrugated Cardboard on Cardboard
Place one piece of corrugated cardboard on your workspace so that the corrugation is horizontal.
Cover the cardboard with a thin layer of epoxy glue.
Place another piece of corrugated cardboard over the first so that its corrugation is vertical.
Press the pieces of cardboard into each other and allow the glue to dry completely before using the cardboard.
Sandwiched Foam
Place a piece of cardboard on your workspace and cover it with epoxy glue.
Place a piece of foam that has been cut to the same size over the glue and press the pieces together for several minutes.
Cover the foam with a thin layer of epoxy glue.
Place another piece of cardboard on top of the foam and press all of the layers together for several minutes until the glue has set. Allow the glue to strengthen for several hours.
Epoxy Glue
Cover one side of the cardboard in a thin layer of epoxy glue. Allow it to dry completely.
Flip the piece of cardboard over and apply another layer of epoxy glue. Allow that layer to dry completely.
Apply epoxy glue to the sides of the cardboard and let the sides dry completely.