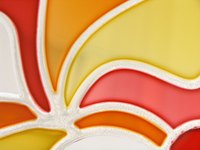 Window gel clings are reusable, flexible decorations that stick when pressed onto a glass surface. They can replicate stained glass or decorate windows for seasons and holidays. Making your own window gel clings allows you to use your creativity to create original designs, as simple or complex as you like, to express your style and complement the home's decor.
Things You'll Need
Clear styrene plastic sheet
Design patterns
Tape
Liquid leading
Glass paints (thick type)
Toothpicks
Place the plastic sheet over the design pattern and tape it to the work surface.
Outline the design with liquid leading by gently squeezing the bottle to get a small, even line. Allow to dry.
Fill in the areas of the design with glass paints up to the edge of the leading. Filling in the areas as much as possible will help the clings to be thick and not prone to tearing.
Prick any bubbles in the paint with a toothpick. Allow to dry for three to four days, or until completely dry.
Peel the window gel cling gently off the plastic to use on a freshly cleaned window.