Things You'll Need
Computer

Printer

Coloring book pages

Clear plastic sheet

Liquid leading

Craft glass paints

Toothpicks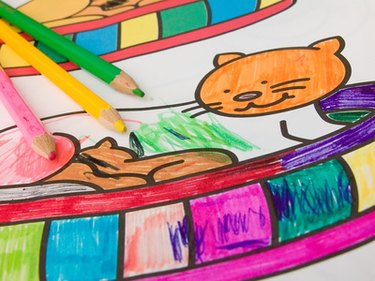 Making custom window clings for any holiday or celebration is a quick project with results that are reusable and will last for years. Glass paints come in dozens of colors and are specially formulated to peel off and re-stick onto glass or plastic surfaces. Any kind of black and white outlined image works well to make a window cling. Window clings are a safe and easy project to do with kids, even preschoolers, because it is a lot like coloring, but with non-toxic paints.
Step 1
Download and print black and white images from crafts sites such as Crayola.com, or use a page from a coloring book as a template.
Step 2
Place the template under a clear plastic sheet, then trace the design using a tube of liquid leading, making sure the liquid leading lines touch each other.
Step 3
Squeeze the glass paints between the lines to color the open areas so it is thick but still within the lines; spread the paint with the tube's tip or a toothpick.
Step 4
Allow the paint to dry completely for at least 24 hours, then peel the design off the plastic mat so the cling comes off in one piece.
Step 5
Stick the window cling to any interior window by simply pressing it onto the glass.
Tip
Resize the cling template images larger or smaller on a black and white copier, if necessary.
Liquid leading and glass paint do not contain lead and are safe for children to use.
Store the window clings in a plastic storage bag until you are ready to reuse them.
For small children, trace the liquid lead outline for them ahead of time and allow the kids to fill in the gel paint colors between the lines.
Make window clings for car windows too; use transparent gel paint for better visibility through the clings.
Warning
Do not shake the glass paints or it will create bubbles in your window cling.