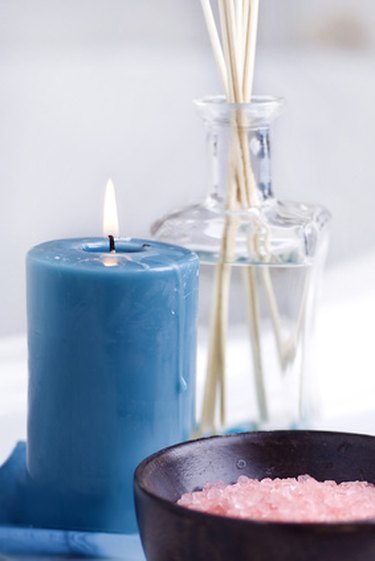 Perhaps you have been been successful making bath bombs for friends and coworkers, but you want to move forward and start a business selling your product. Bath bombs, or bath fizzies, are inexpensive and relatively simple to create. When placed in a bathtub, bath bombs create a pleasurable fizzing sensation in the water.
Step 1
Test your product thoroughly. Before you sell to the general public, ensure that your bath bombs are safe and ready for sale. Create several batches for testing. Use a few bombs in your bath every day. Note how many days after the date of manufacture the bath bombs lose their effectiveness and stop fizzing. How quickly does the scent diminish? Ascertain an appropriate expiration date for each batch so your customers regularly receive a fresh, effective bath bomb. Employ volunteer testers to test for reactions to different skin types. Do any testers exhibit signs of a skin rash or other reaction to your bath bomb? Consider tweaking your original recipe, and continue testing to create a bath bomb suitable for customers with sensitive skin.
Step 2
If you're going to sell bath bombs out of your home, you probably need a business license. Contact your local city or county agency for required licensing information. Contact the Federal Drug Administration for information on whether your bath bombs are regulated as a cosmetic product or a soap product. The difference is based on intended use and product ingredients. If your bath bombs are classified as a cosmetic product, additional FDA regulations may apply.
Step 3
Design eye-popping packaging. Creative marketing is an important element for any product. Packaging is the first thing your customers see and will help you stand apart from competitors. Consider nestling your bath bombs in small boxes or wrapping them in cellophane and colored tissue. Experiment with different colors for each scent. Create a catchy name for each scent and a label of ingredients. Create boxed gift packages with multiple bath bombs in various scents.
Step 4
Set up an online shop. Etsy is a popular website to sell handmade craft products. Registration is free, and there is a small listing fee to sell your items. Take attractive product photographs, or hire a professional photographer. Pictures are essential when you're selling online since potential customers can't see the actual product. Experiment with other online sites, such as eBay, or create your own e-commerce website to sell your bath bombs directly to the public.
Step 5
Sign up for a farmer's market or event vendor booth. Many local markets welcome vendors selling handcrafted items. You will need a tent and tables to set up your booth. Get creative with marketing. Create mini bath bombs to package and distribute as free samples.
Step 6
Approach retail stores to carry your bath bombs. Send out marketing mailers, and call retail buyers to sell your bath bombs wholesale. In general, wholesale pricing is fifty percent of the retail price. Consider hiring a sales representative to sell bath bombs for you on commission.
Tip
Test your shipping and packaging methods before shipping your bath bombs to customers. Fizzies are fragile and break easily.
Warning
Purchase product liability insurance to protect your assets in the event of legal action from customers.