Things You'll Need
Yellow dress

White pinafore or apron

White knee stockings

Black patented leather shoes

Curling iron

Blond wig

Large yellow bow

Teddy bear

Wooden spoon

Wooden bowl

Gold eyeshadow

Mascara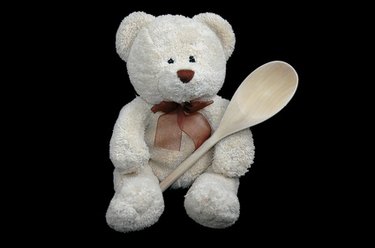 A homemade Goldilocks costume will show off your creative costuming abilities and guarantee that your outfit will be an original. By making your costume at home, you will have full control of your outfit's colors and the small details that will make it unique. Make your own Goldilocks costume for a Halloween party or a school play. Learn how you can make and assemble your own Goldilocks costume with minimal sewing at your own pace.
Step 1
Wear a yellow or gold-colored dress. Pick a dress made from gingham for a wholesome look. The dress should not be too long or too short, but a mid-length dress that looks childlike.
Step 2
Place a white pinafore or apron over your gold dress. Tie it in a bow in the back.
Step 3
Pull on a pair of white knee stockings to make you look more childlike. Add a pair of black patented leather shoes with buckles.
Step 4
Roll your blond hair into ringlets. If you do not have blond hair, buy a blond, curly wig. Place a large yellow bow in your hair.
Step 5
Carry a teddy bear or an oversized wooden spoon and bowl.
Tip
Wear golden eyeshadow and loads of black mascara to make you look pretty. Ask three friends to dress up as bears and the four of you will look hilarious.