Things You'll Need
Paper

Scissors

Ruler

Glue stick

Crayons

Pencil

Printer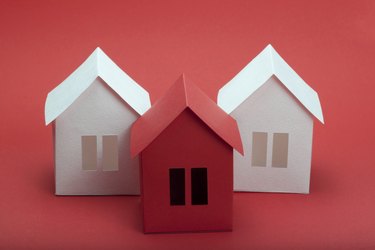 Develop the interests of young architects by helping the kids create their first three-dimensional paper homes. It takes less than an hour to craft a 3D house from just two pieces of paper.
Step 1
Create the template for your paper house model. The simplest option is to draw two rectangles -- one long and narrow for the house and one short but wide for the roof. Or make the process even simpler by printing out a free paper house template from online.
Step 2
Mark fold lines on the handmade house template. Starting from left to right, divide the long rectangle you cut out into four sections and mark with pencil. The first section will be the front of the house, and the third section will be the back of the house. The second and the fourth sections will be the right and left sides of the house. Make the front and back walls the same length, and make the left and right sides the same length. When folded, these will form the walls of your house. For the roof template, simply measure and mark a line along the halfway point between its two long sides.
Step 3
Decorate the exterior of your house template. This is a great step for the kids to take part in. Have them draw windows, a door and tiles on the roof with crayons.
Step 4
Crease the house template along your fold lines to make assembly faster. If you printed out a template from online, just use the dotted fold lines on the template as a guide. You will want to fold the template so that any paper tabs are on the inside of the house.
Step 5
Tape the homemade house templates together. Start by folding in the house portion of the template into four connected walls. Tape the two open ends of the rectangle together on the inside to form a corner. Fold the roof portion of the template together along the crease line. Secure the roof in place on top of the walls with tape along the two long sides of the roof. This leaves the roof open on the sides. If you like, cut out two small triangles to fill the open sides. Tape them into place to make the house more complete.
Step 6
Glue the printed house template together. If you printed out a template with tabs, it is better to use glue on the tabs. Fold the house template into place with all tabs folded inside the house. Apply glue to the surface of the tabs and press them against the back -- inside -- of the opposing section of paper. Allow the glue to dry for a few hours before playing with the house.
Tip
Markers and paints are also useful for decorating the exterior of the house.
Warning
Scissors are best used by adults or older children.