Things You'll Need
Large paper grocery bag

Glue and tape

Pom-poms, pipe cleaners, jewels and other crafting decorations

Scissors

Hole punch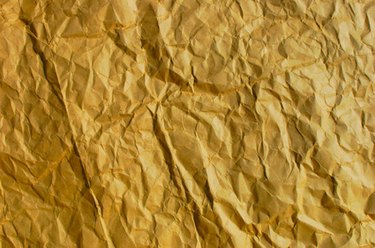 Making a hat from a brown paper bag is simple and entertaining for all ages. This is an innovative craft project for a child's party, class or club activity or just to kill some time on a rainy day.
Step 1
Roll the top of the bag down to your desired size. Pinch and grip the bag as you roll it down, creating the desired circumference size for the head of the person who will wear it. The circumference folds can be taped into place if necessary.
Step 2
Decorate the hat. Glue or tape pom-poms, jewels, feathers and other craft items to the hat. Draw designs and pictures on the hat with crayons, markers and pens. Each person can be creative and make his hat an original creation.
Step 3
Coil pipe cleaners around a pen or pencil. Glue a pom-pom or another decoration on one end. Punch a hole in the hat and tape the other end from the back side to create an antenna.
Tip
When rolling the top of the hat down, be gentle to avoid ripping it.