Painting wood black is simple, but if your wood is extremely porous (absorbent), the process can be frustrating. Each time you paint the wood black, it may look fine while the paint is fresh, but fade to a dull gray as the wood absorbs the liquid from your paint, making it appear more like a stain than a solid-color coating. Applying a primer before painting will prevent this problem, and tinting your primer will help keep your wood looking nice and black, even after a few nicks and scratches.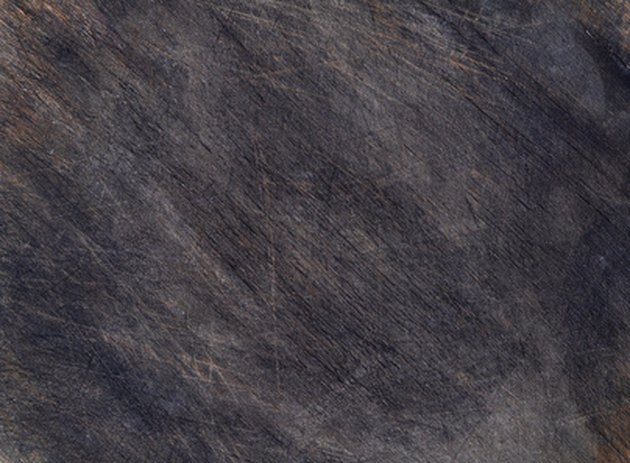 Things You'll Need
Sandpaper (fine-grit)

Palm sander

Rag

Acrylic primer, tinted

Stir sticks

2-inch paintbrush

Paint roller with 3/8-inch nap pad

Black acrylic paint
Step 1
Sand the entire surface of your wood item, using fine-grit sandpaper to remove any previous surface coatings and create a smooth surface for your paint. A 1/4 sheet of sandpaper in a palm sander works well and makes the job go faster than sanding by hand.
Step 2
Wipe all sanding dust off your wood, using a lint-free rag.
Step 3
Stir a can of acrylic primer thoroughly--even if your paint and primer are stirred or shaken at the store, always re-stir before you apply them, as the contents may settle out quickly. Use a tintable type of primer made for wood. The tint should be as dark as possible.
Step 4
Brush primer onto your wood along any places where a roller cannot reach. This usually means 2 inches surrounding any edges that meet with internal corners, plus any deeply textured areas.
Step 5
Roll primer onto the remaining surfaces of your wood, using a high-quality roller pad and a frame that moves easily for even application. Allow the primer to dry thoroughly.
Step 6
Stir your black acrylic paint thoroughly, distributing the pigment evenly throughout the paint. Apply it to your wood's edges with the brush, then the remaining surfaces with a roller. Use a clean brush and fresh roller pad, not those used for the primer. Allow the paint to dry completely.
Step 7
Add a second coat of black paint; dark colors often require more than one coat.
Tip
Use only high-quality paint. Cheap black paint may not have a formula that produces a strong, even black finish.
Flat black paint may tend to look a bit gray when it is dry. Try eggshell or satin for just a slight sheen that can make the black look darker.