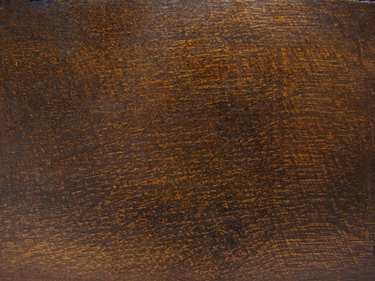 Use stains to seal and polish natural wood furniture and floors. A stain helps preserve the visibility of the wood grain while adding shine and a richness of color to the surface. Dark wood stains have a high level of opacity, allowing minimal light to pass through the surface and resulting in a dark stain on the wood grain. Woods stained with a dark color just barely reveal the wood grain behind the stain.
Ebony
The darkest color available in wood stain is black. Black wood stains are often called ebony or onyx wood stains. A black wood stain closely resembles black paint but allows the wood grain to show through. Apply black stain by wiping the stain on with a rag or brush. Because of the saturated color, it is particularly important to apply painters' tape around the edges of the item to be stained to avoid damaging surrounding surfaces. Some people believe that black wood stain requires more effort to apply than a black spray paint, which may resemble a similar finished product.
Dark Brown
For a less dramatic look than black, a dark brown wood stain will add depth and saturation to wood without completely covering the wood grain. Common names for dark brown stains include mahogany, dark walnut and chestnut. Dark brown wood stains frequently include a subtle red or cherry undertone that adds richness and warmth to wood stains. You can add dark brown stains in several layers to obtain the desired depth or saturation for the wood.
Custom Colors
Some companies offer custom stain options. You can mix two stain colors or add a color tint to an existing stain to create a custom color. Stains with slight colored tints like red or green tend to darken stains without turning the stain black. The end result of a custom tinted stain will be a dark stain with a slight colored undertone. Unlike paint, however, the wood grain will still be clearly visible beneath the layers of stain. Like other stains, several coats of custom tinted stain will increase not only the darkness of the stain but also the color saturation.