Things You'll Need
Metal bar

Metal scrub brush

Bucket

Vitamin E oil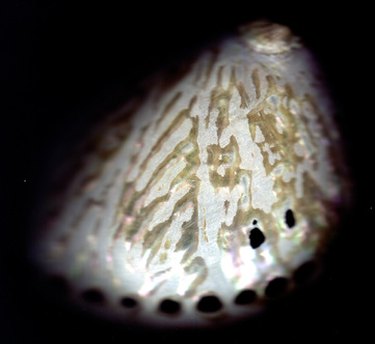 Abalone shells are found off the coast or North America, New Zealand, Australia and Japan. Abalone shells normally have a row of respiratory holes along the outside of the shell. The mother-of-pearl on the inside of the shell comes in a variety of iridescent colors. Once the shells are cleaned and polished, they are quite beautiful. Abalone shells come in a variety of sizes and is a popular medium for jewelry and decorative items.
Step 1
Remove any pieces or barnacles or worms by hitting them with a small metal bar. Remove as much as you can.
Step 2
Scrub the outside of the shell with a wire brush. Use firm pressure with a back-and-forth motion.
Step 3
Fill your bucket 3/4 full with water. Soak the abalone shell for a few days to loosen any remaining debris. Allow to dry and then give it a final scrub with your wire brush. If it is raining outside, set the shells near a downspout and let the water spill onto them.
Step 4
Apply a small amount of vitamin E oil to your fingertips and rub onto the inside and outside of your abalone shell to polish. Use a quick circular motion. If the shell has sharp edges, use a wash cloth. Reapply the vitamin E oil as needed.