Things You'll Need
Fabric

Scissors

Pins

Yardstick

Sewing machine

Thread

Iron and ironing board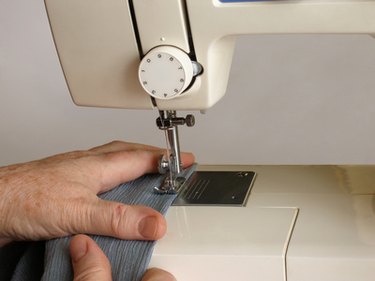 Sewing is a rewarding craft, and flat sewing is the easiest to learn. Making a queen-size pillowcase is an easy flat sewing project, and once it is made, you can decorate the open end with embroidery or a fancy stitch with the sewing machine. Practice your sewing skills and have some fun making a queen-size pillowcase or maybe even two if you want to use them on a bed.
Step 1
Purchase 1 1/4 yards of 44-inch fabric for each queen-size pillowcase you want to make. Two pillowcases will require 2 1/2 yards of fabric. This pillowcase is made of one kind of fabric and is one-piece construction.
Step 2
Wash and dry the fabric to remove filler and to pre-shrink the fabric. Press with an iron. Fold fabric lengthwise.
Step 3
Cut one 40-inch length for one pillowcase and use the width of the fabric. The 44-inch fabric should be the correct width measurement for a queen-sized pillow 20 by 30 inches.
Step 4
Trim the selvage edge with scissors, removing as little fabric as possible. The selvage edge shrinks more than the surrounding fabric and will cause puckering if not removed.
Step 5
Fold the fabric lengthwise again, with the wrong sides together. Stitch around the length and one end with 1/4-inch seam allowance. You will be stitching on the right side of the fabric.
Step 6
Turn the pillowcase to the wrong side and trim the seam in any areas that are uneven or more than 1/4-inch. Press the seams carefully, as you will be sewing along this edge again.
Step 7
Stitch the closed end and lengthwise seam again, enclosing the 1/4-inch seam in the new 3/8-inch seam. This makes a French seam that has no raw edges showing. Turn the pillowcase to the right side and press a fold 1/4 inch at the top (open end) with wrong sides together. Stitch around the open end of the pillowcase within the 1/4-inch fold. Fold 4 inches for a hem at the open end and press wrong sides together. Pin in place and stitch just outside or inside the 1/4-inch seam at the open end, now 4 inches from the edge of the open end of the pillowcase.
Step 8
Decorate the open end of the pillowcase with a sewing machine design along the seam edge at the depth of about 4 inches, or add a flat braid or lace if you prefer. You may also choose hand embroidery for decorating your new queen-size pillowcase.