Things You'll Need
100 yards worsted weight yarn

Size 6 U.S. knitting needles

Tapestry needle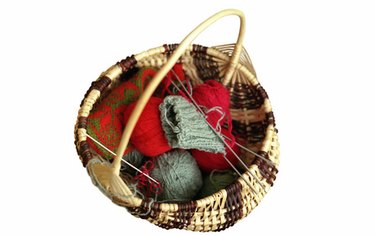 An understanding of basic knitting stitches is all that is needed to follow this simple pattern for knitting slippers. Knit all in one piece, these slippers are easily made using a combination of garter stitch and ribbing, with the toe shaped at the end. The pattern can be adapted to any foot size simply by knitting more rows to add length. With a few adjustments, this single pattern can be used to make slippers for the entire family. This is a good opportunity for beginners to use basic stitches and learn ribbing.
Step 1
Cast on 10 stitches to check gauge. Knit 6 rows. Measure across. If gauge is correct, 9 stitches across should measure 2 inches; and 6 rows in length should measure 1 inch. Adjust needles or tightness of knitting, if necessary.
Step 2
Cast on 35 stitches. Knit in garter stitch (knit every row) for 4 to 5 inches.
Step 3
Knit the following 2 rows to begin forming the ribbing pattern:
Row 1: knit 1, purl 1, knit 1; repeat purl 1, knit 1 to end of row. Row 2: purl 1, knit 1, purl 1; repeat knit 1, purl 1 to end of row.
Repeat these 2 rows until the piece measures 1 inch less than the foot length.
Step 4
Work the toe by knitting 2 stitches together all the way across the row. Knit the final stitch.
Step 5
Cut the yarn, leaving a strand about 30 inches in length. Thread a tapestry needle, then pass it through all stitches on the needle. Pull the stitches and fasten off. Be careful not to pull too hard or the thread may break or stretch. Sew the edges together slipper and heel to fit the foot.
Tip
Count frequently to make sure you have 35 stitches on the needles. Otherwise, the piece will be uneven. Check the gauge frequently.