Things You'll Need
Fabric

Tables

Measuring tape

Shears or cutter

Sewing machine

Iron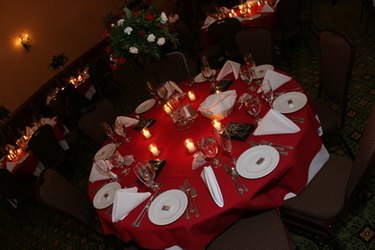 A beautifully set table can set the scene for a casual dinner party or a lavish wedding. One way to add visual interest to your table is to use an overlay. An overlay is an additional piece of fabric that goes over top of the tablecloth. Usually it is smaller or a different shape then the tablecloth, so that both pieces show. You can make your own table overlays for your wedding to save the often pricey cost of renting them.
Step 1
Measure and count your tables using a tape measure. If you are just making a single overlay for your dining room table, this is a quick step. However, a wedding or other party will usually have multiple tables, sometimes with multiple sizes. Make a list of the number of tables you need to cover, along with their shapes and measurements.
Step 2
Determine the shapes and sizes of the overlays. If you are working with a round table, it will usually have a round tablecloth. You can complement the shape of the table by choosing a square overlay. This way, the four points of the square will fall around the sides of the table, making an attractive pattern. Try using a square overlay on a square table, but rotate the square so that the points of the overlay fall in between the points of the tablecloth.
Step 3
Decide how much total fabric you will need. Fabric is usually sold by the yard and comes in different widths. Determine whether the bolt of fabric will be wide enough for your overlay or whether you will need to create a seam down the center to join two widths of fabric. Some fabrics, like home decor fabrics, come in larger widths, which may allow you to have one solid piece of fabric for your overlay.
Step 4
Purchase the fabric; if you are purchasing a large amount of fabric, it may be worth your time to look into places that will give discounts for purchasing by the bolt. You can create an overlay out of many different kinds of fabrics. One common choice is choosing a sheer fabric. This will add visual interest and a bit of color, without totally overpowering the tablecloth. It also allows the color of the tablecloth to peek through a bit. Another option is to choose a more luxurious fabric. A silk or satin overlay would add a lavish feel to the standard linen tablecloth. Choose a color that will complement the other colors that are used in the table setting.
Step 5
Cut out the pieces of fabric using fabric shears or a cutter. Use an L-square and a cutting board to accurately cut any square pieces. If you are cutting out circles of fabric, there are plenty of tools that can help you make that perfect circle. One such tool is a rotary circle cutter that works like a compass you would use to draw a circle.
Step 6
Finish the edge of the overlay with a sewing machine. There are several techniques for doing this, depending on the type of fabric you are using and the look that you like. Fold over the edge twice and sew a straight stitch for a simple and clean edge, or finish the edge off with a tight zig-zag stitch.
Step 7
Press the overlay with a hot iron, set according to the fabric type. Center the overlay over the tablecloth.