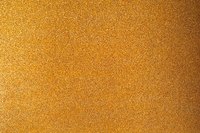 You can alter the color of your vinyl-coated wood furniture by refinishing it with a coat of paint. However, before you get started, you must condition the vinyl to accept the paint, or the finish will fail. Because vinyl coatings are nonporous, they are ill-suited for adhesion and must be abraded before any paint will stick. In addition, if you want the finish on your vinyl-coated wood furniture to remain durable, you will need to apply the appropriate base coat, first, or the paint will shed and flake, over time.
Things You'll Need
Dish soap
Coarse sponge
Rags
Towels
Palm sander
220-grit sandpaper
Heavy-duty fabric drop cloth
Blue painter's tape
Acrylic latex primer
3- to 4-inch latex paintbrush
Acrylic latex paint
Move the vinyl-coated wood furniture outdoors or into a ventilated area.
Scrub the vinyl coating with dish soap using a coarse sponge. Rinse the soap using damp rags. Dry the furniture using towels.
Abrade the outer vinyl coating to enhance adhesion by sanding it with 220-grit sandpaper.
Place the furniture on top of a drop cloth, and cover areas you do not want painted with painter's tape.
Coat the abraded vinyl coating with an acrylic latex primer using a 3- to 4-inch latex paintbrush. Wait at least two hours for the primer to dry.
Wash the brush with water.
Coat the primed vinyl with an acrylic latex paint. Wait at least six hours before using the furniture.