Things You'll Need
Dish soap

Coarse sponge

Rags

Towels

Heavy-duty fabric drop cloth

Professional painter's tape

Masking paper

Acrylic latex spray primer

Flexible vinyl spray paint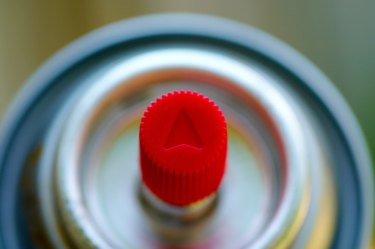 Vinyl strapping is used as part of some exterior chairs. If you would like to paint vinyl strapping, you must combat a pair of problematic issues. Vinyl is poorly suited for paint adhesion. In addition, because vinyl strapping is flexible, it will cause ordinary paints to crack. If you want to generate a lasting finish on your vinyl strapping, apply a special type of paint, specially made for flexible vinyl. Apply the finish using the proper method or sagging is likely to occur.
Step 1
Use a sponge to wash the vinyl strapping with dish soap. Rinse the strapping with wet rags. Dry the vinyl with towels.
Step 2
Protect areas next to the vinyl strapping by covering them with painter's tape and masking paper. Cover the area beneath the strapping with a drop cloth.
Step 3
Read the labeling on your flexible vinyl spray paint to see if it requires a base primer. If it does, coat the vinyl strapping with acrylic latex primer. Maintain 8 inches between the strapping and the spray nozzle as you apply. Allow the strapping to dry for two hours. Skip this step if your flexible vinyl spray paint does not require a bonding primer.
Step 4
Coat the vinyl strapping with flexible vinyl spray paint. Paint the strapping just as you primed it. Allow the strapping to dry for six hours.
Warning
Don't paint dirty vinyl strapping or the finish may peel.
Don't use ordinary paint on vinyl strapping, as it is not flexible enough to move along with the strapping.