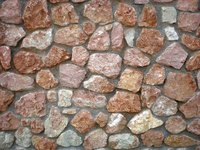 Stone veneer is a relatively inexpensive faux stone surface, consisting of painted concrete, meant to replicate the appearance of natural stone. If you want to paint your stone veneer, consider a few factors before you start. First, because stone veneer is ill-suited for paint adhesion, treat it with a base coat before application, or it will rapidly shed its new finish. In addition, you must use a particular type of paint, depending on the location of the veneer.
Things You'll Need
Pressure washer
Broom
Blue painter's tape
Heavy-duty fabric dropcloths
Latex primer
Roller frame
Nap roller cover
Roller extension pole
2- to 4-inch latex paintbrush
Satin latex paint
Clean exterior stone veneer with a pressure washer. Dust the veneer with a broom if it is indoors.
Cover areas you do not want painted on and adjacent to the stone veneer with low-tack blue painter's tape.
Cover areas beneath the stone veneer with fabric dropcloths.
Coat the clean stone veneer with a latex primer, using a roller frame, nap roller cover and extension pole. Coat areas inaccessible to the roller with a paintbrush manufactured for applying water-based latex paints. Wait two hours for the primed stone veneer to dry.
Wash all painting tools with water.
Coat the primed stone veneer with a satin latex paint. Apply paint to the stone veneer just as you did the primer. Wait two hours for the painted stone veneer to dry. Add another coat if the primer shows through.