Things You'll Need
Wet vacuum (optional)

Steam cleaner (optional)

HEPA vacuum

N-95 respirator mask

Gloves

Protective eyewear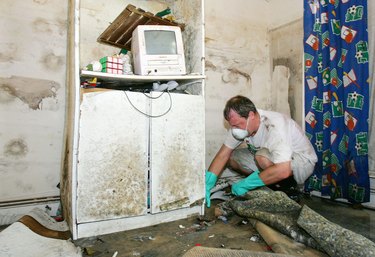 Cleaning up unsightly mold can beautify your home, school or office. Mold remediation is also important to maintaining a healthy environment. While mold remediation on non-porous surfaces may only require a simple damp wipe and drying period, carpet fungus removal entails a more elaborate process. Fortunately, you can kill and remove carpet fungus on your own if you have access to a high-efficiency particulate are (HEPA) vacuum and a wet vacuum or steam cleaner.
Step 1
Put on protective gear. Wear an N-95 respirator mask, gloves and protective eyewear such as goggles to keep solid mold and loosened spores off of your skin and out of orifices.
Step 2
Measure the fungus-infected area of your carpet. The United States Environmental Protection Agency recommends attempting to remediate mold only on carpets with affected areas smaller than 10 square feet. Carpets with affected areas larger than 10 square feet should be cleaned and discarded.
Step 3
Use a wet vacuum or steam cleaner to remove the visible solid mold from the fungus-infected area of your carpet. Feel free to wet vacuum or steam clean the entire carpet.
Step 4
Allow the carpet to dry thoroughly. Mold remnants may begin to form new colonies if the carpet remains damp.
Step 5
HEPA vacuum your carpet. HEPA vacuuming destroys any remnants of mold on your cleaned and dried carpet.
Tip
Keep the carpet clean and dry to avoid future mold growth.
Ventilate the area in which you perform carpet fungus remediation. This allows the area to dry faster and allows stirred-up mold and spores to escape.