Things You'll Need
Poster board

Paint

Construction or card stock paper

Glue

Markers

Lettering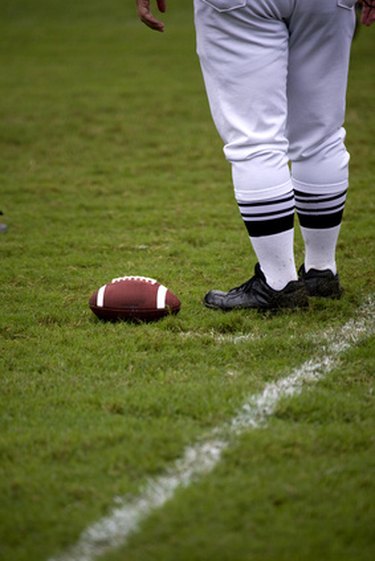 Decorating a football themed poster board is a fun project to promote school and extra-curricular football activities. It is great for pep rallies, football games, football fundraisers, team try-outs, team spirit posters and the showcase of a player. Football posters can also be made to show team spirit for your favorite college or national football team. Use paint, glitter, wooden and paper letters, markers and colored card stock paper to create a unique football poster board.
Step 1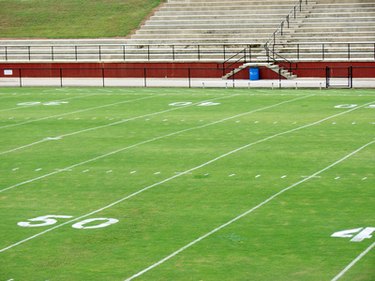 Paint a white piece of poster board with green tempera craft paint, covering the entire board. Choose a shade similar to the grass or turf of a football field. Allow the poster to dry before proceeding.
Step 2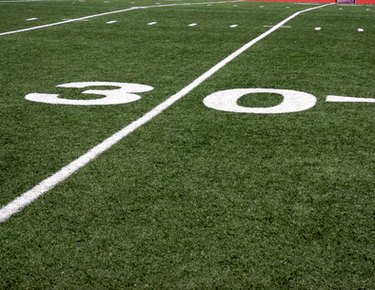 Lay the poster horizontally and paint white hash marks across the top or bottom edge to resemble yard lines on a football field. Begin at the center of the poster with a two-inch line representing the 50-yard line. Mark the line with a "5" on one side and a "0" on the other. Continue to the right and left edges until you are out of room. For a realistic look, paint the lines one inch apart, following the pattern of four short, one-inch lines, followed by one long, two-inch line.
Step 3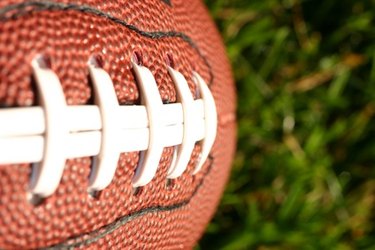 Cut a football shape from brown card stock that is about 6 inches across. Scale the football to fit your poster depending on how much room you need for wording. Decorate the paper football with puff paint and adhere to your poster with pop dots to create a three-dimensional look.
Step 4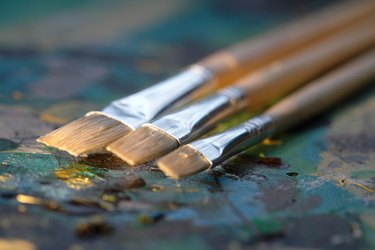 Add words to the poster using craft paint, painted wooden letters, sticker letters or letters cut from paper. Visualize your word placement to make the poster look balanced and well put together. Appropriate letter size, spacing and centering are important. Be sure to include all important details if the poster is informational.
Tip
Be creative with the shape of your football poster board for an eye-catching piece. For example, cut the poster into the shape of a large football and paint it brown with white laces. Add lettering cut from card stock in the team's colors.
Decorate your football poster as you see fit, but be wary of going overboard. A crowded, busy poster is not likely to catch as many eyes as one that is tastefully put together.