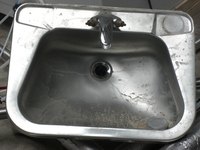 Stainless steel is used to make all sorts of household appliances and is valued for its strength and durability. While stainless steel resists stains and rust, it is not rustproof. Neglect, wear and tear, and improper cleaning can lead to rust spots and rust stains on your stainless steel items. Dented or damaged stainless steel is also more prone to developing rust. With a little elbow grease and some basic household products, you can remove the rust from your stainless steel items.
Things You'll Need
Powdered cleanser
Nonabrasive plastic or nylon dish pad
Wet your scrubbing pad and apply a small amount of the powdered cleanser to the pad to make a paste.
Rub the pad directly over the affected area using small circular motions. Continue to clean until the rust stains are lifted, applying more cleanser as needed.
Rinse the paste from the affected area with water or use a damp cloth to remove the paste. Ensure all traces of the cleanser are removed.
Use your towel to thoroughly dry the stainless steel item.