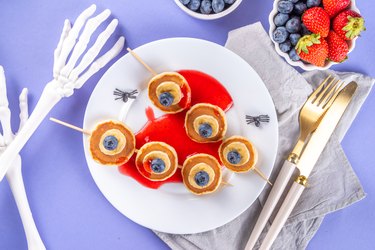 If you need fake blood for your Halloween costume or Halloween party this year, don't bother going to the store. We can save you the trip with three easy fake blood recipes that don't require food coloring! All three recipes are inexpensive to make and are food-safe too—perfect for making edible Halloween treats like "eyeball" pancakes, fake blood candy or zombie cookies drizzled with fake blood.
For your homemade fake blood recipe, you can choose from using syrup, red velvet cake mix or fruit punch. Read on to see which option is best for your fake blood-making needs!
Video: How to Make Fake Blood Without Food Coloring
1. Chocolate Berry Fake Blood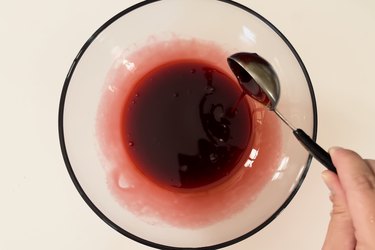 This recipe is simple and a great option for adding edible fake blood to Halloween desserts or candy. The runny consistency also makes it perfect for adding to gel caps—you can bite into them when you want "blood" to run from your mouth.
To get started, you'll just need strawberry syrup—like the kind used for ice cream sundaes—and chocolate syrup. Start with the strawberry syrup, pouring it into a bowl. Depending on the amount of fake blood you need, you can start with half a cup and double or triple the recipe as needed. Next, add 1 Tbsp. of chocolate syrup, mix the syrups together and judge the color for yourself. The darker you want the fake blood, the more chocolate syrup you'll need to add. Add it in 1 Tbsp. increments to make sure the fake blood doesn't get too dark.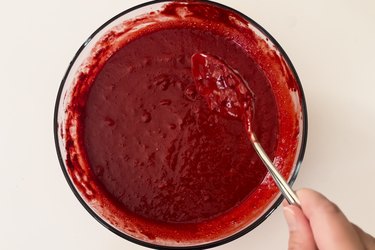 If you need a goopier type of fake blood for things like fake guts and fake scabs, this fake blood recipe is for you. Simply add a box of red velvet cake mix to a bowl and add 1 cup of water to it at a time, stirring just enough to combine the ingredients but not too much. Some chunky areas will help with the illusion. Add up to 4 cups of water depending on your desired consistency. If you want to make the final concoction more sticky, you can add a splash of corn syrup.
Due to the thickness of this fake blood DIY, it's also a good option for creating splatter effects on both Halloween decorations and costumes.
3. Fruit Punch Fake Blood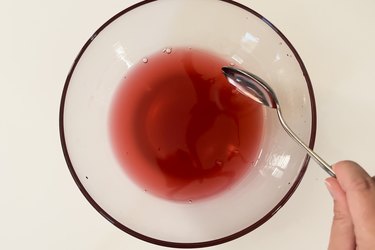 Fruit punch is another great ingredient for making your own fake blood. This recipe calls for fruit punch, corn syrup and either cocoa powder or chocolate syrup. To start, combine one part fruit punch with two parts corn syrup. This will give you bright red fake blood without requiring red food coloring. If you want the blood to look more realistic, go ahead and add a pinch of cocoa powder or a splash of chocolate syrup until the fake blood darkens to your liking. This recipe is great for special effects in haunted houses or for stage blood because you can make it in big batches with just a jug or two of fruit punch.
Tip
Be aware that these recipes are ‌not‌ washable. Only add these fake blood recipes to clothing and items that can be permanently stained.
If you want to further tweak any of these three DIY recipes to produce the realistic fake blood you need, there are a few things you can try.
‌If the fake blood looks too translucent:‌ Add cornstarch. This works particularly well when paired with the fruit punch recipe.
‌If the fake blood is too runny:‌ Add some corn syrup to thicken it. This best suits the chocolate berry fake blood recipe.
‌If the fake blood doesn't look gross enough:‌ Add chunky peanut butter or onion flakes. You can do this with any of the above recipes.