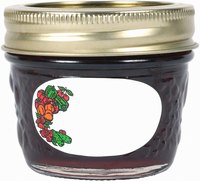 If you make pancakes or waffles only to discover that you don't have syrup in your pantry, reach for the jam instead. Make a simple syrup from jam and you'll be the hero at breakfast. You can also use a syrup made from fruit jam to flavor pound cake and other desserts. Any type of jam, including grape, strawberry, raspberry and blueberry jam, can be transformed into syrup.
Things You'll Need
Small spoon or rubber spatula
Saucepan
Scoop the jam from the jar into a saucepan with a small spoon or small rubber spatula. Use about 1 cup of jam to make enough syrup for eight to 10 waffles or pancakes.
Place the saucepan on a burner over low heat. Add warm water to thin out the jam, about 3 tablespoons of water per cup of jam. Add the water a little at a time, stirring constantly, to avoid thinning the jam too much.
Bring the syrup mixture to a slight boil while stirring constantly. If the mixture is still thick after heating, stir in more water -- 1 tablespoon at a time -- to achieve the desired consistency. Cook until heated through.
Remove the saucepan from the stove top. Scoop the syrup from the saucepan with a ladle or pour the syrup directly over food. Return the saucepan to the stovetop over low heat if the syrup starts to thicken.