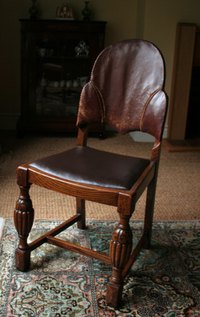 The proper adhesive ensures the materials you are gluing together stay together. Choosing the right glue and the method of application presents a challenge when attaching two different materials. Whether you are making a repair or creating a new item, gluing leather to wood successfully requires more than general-purpose household glue. A quality contact cement creates a strong bond to both the wood and leather if the materials are prepped properly beforehand. Check the contact cement bottle before purchasing to ensure it is suitable for the materials you are gluing.
Things You'll Need
Rub the back side of the leather with a piece of medium-grit sandpaper. This roughs up the back just enough so that the nap of the leather is raised.
Apply a coat of contact cement to the roughed-up side of the leather and allow it to dry for the amount of time recommended on the cement package or until it is tacky. Use the enclosed applicator if supplied, or a foam craft brush. Apply a second coat and allow it to become tacky.
Apply a single coat of contact cement to the wood surface at the same time you apply the second coat of cement to the leather. Allow it to become tacky.
Place the leather on top the wood and press the items together with firm pressure. Press on the leather until it is fully adhered to the wood.
Allow the contact cement to cure completely before use. Refer to the bottle for recommended drying or curing time.