Things You'll Need
Steel wool

Chemical rust remover

Cloths

Black grate polish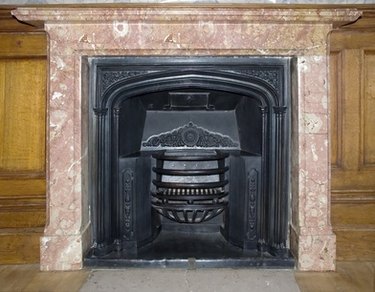 Black metal fireplace surrounds are fairly common, and are most always made from cast iron. Cast iron is a very heat-resistant metal with an extremely high melting point, which is why it is also ideal for making pots, pans and other cookware. Cast iron fireplace surrounds can become dingy over time, but a little cleaning and re-blackening can bring them back into shape once more.
Step 1
Scrub the surround with a piece of fine steel wool to remove any rust and other debris. Apply chemical rust remover with a clean cloth if the rust cannot be scrubbed off. Let the remover sit for five to 10 minutes and remove with a damp cloth.
Step 2
Wipe the fireplace surround with a dry cloth to make sure nothing is left on the surface. Let the metal dry completely if it was dampened.
Step 3
Use the included brush to cover the surround with a new layer of black grate polish. Try to apply the polish in straight lines and avoid streaking, since it may show in the finish. Let the polish dry 24 to 48 hours before using the fireplace.