Things You'll Need
Rose cutter

Airtight plastic container with lid

Silica gel

Spatula

Aerosol hair spray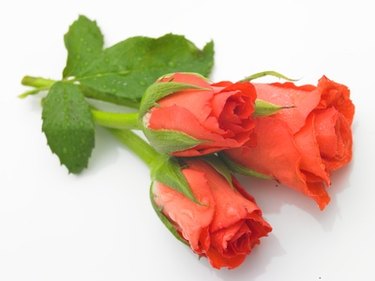 The rose is well-known as a symbol of love and is given on many occasions including anniversaries, birthdays and special days like Mother's Day. Preserving a fresh rose allows you to have a simple commemorative piece with which to remember a special day. While freshly cut roses last for several days, at best, a preserved rose can last for years.
Step 1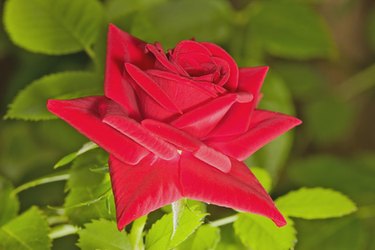 Find a rose with petals that are just beginning to open. Check the foliage to make sure it's free from spots and blemishes and make sure the rose is completely dry.
Step 2
Cut the stem of the rose to the length you desire using a rose cutter.
Step 3
Fill your airtight plastic container halfway with silica gel. Gently lay the rose in the silica gel, making sure to arrange any leaves or flower petals as you would like them to dry.
Step 4
Pour more silica gel in the airtight container until your rose is completely covered. Place the lid on the container and seal it tightly.
Step 5
Leave your rose in the airtight plastic container for three to five days so the silica gel can draw the moisture from the rose petals, leaves and stem. After three days, open the container and tip it slightly so you can check your rose. Replace the lid and allow it to dry further if any portion of the rose does not look fully dry.
Step 6
Open the airtight container and tilt it to the side so some of the silica gel slides off your rose. Gently and carefully scoop up your dried, preserved rose with a spatula.
Step 7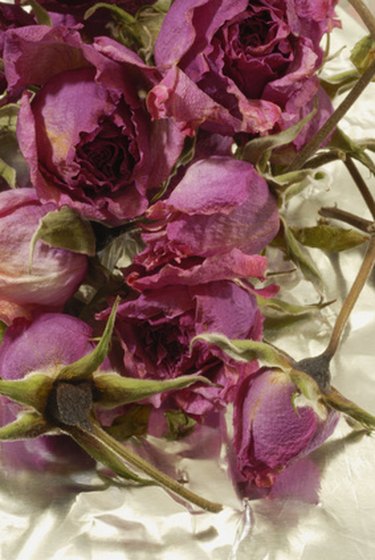 Preserve the color of your dried rose by spraying the petals with an aerosol hair spray.
Tip
Reuse your silica gel for other floral preservation projects. Pour your used silica gel into a baking pan and bake it at 200 degrees for one hour.
Warning
Dried flowers are very fragile. Place your dried rose in a bud vase and keep it out of the reach of curious children and pets.