Things You'll Need
Blue paint

Green paint

Plastic container

Paint stick

Paper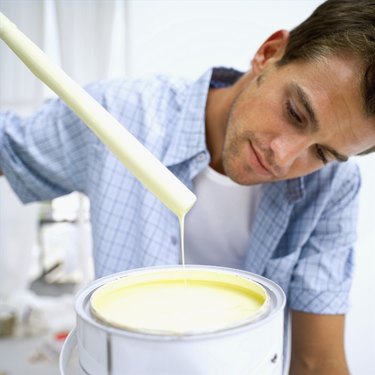 How to Mix Colors to Get Turquoise. Mixing colors is the best way to get the precise shade of the color you're in need of for your project. Turquoise is a color that can vary from a warm to a cool shade. Creating the perfect turquoise is a matter of deciding how much green to add to your blue to get the right shade.
Step 1
Pour blue paint into a plastic bucket. Use a bucket that has an airtight lid to preserve the paint you have left. Write down how much blue paint you used; for example, note that you poured 1 cup of blue tempera paint.
Step 2
Add half that amount of green paint to the plastic bucket and mix the color thoroughly. Write down how much green you added.
Step 3
Evaluate the color you created by painting a small amount on paper and allowing it to dry. Only then will you see the true value of the turquoise.
Step 4
Decide if you want your turquoise to be warmer or cooler. If you want it warmer, add more blue. If you prefer a cooler shade of turquoise, mix in more green paint.
Step 5
Continue mixing in the blue and or green colors until you've reached the perfect shade of turquoise for your project.
Tip
Remember to always write down how much paint you use when mixing colors. That way, once you find the right color, you have the recipe to repeat it easily.