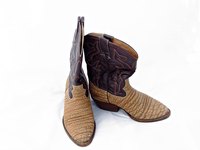 A pair of cowboy boots can make or break a cowboy costume. Unfortunately, cowboy boots can be expensive. Plus, boots can be uncomfortable to wear around all night trick-or-treating or partying. Thankfully, it's easy to make an inexpensive pair of slip-on felt cowboy boots. These boots require minimal sewing skills and only common crafting supplies. Best of all, slip-on felt cowboy boots can fit over any pair of shoes, maximizing the comfort of the costume.
Things You'll Need
Dark brown felt
Fabric scissors
Thread
Sewing machine
Velcro
Black puffy paint
Cut out two "L" shaped pieces of dark brown felt. The base of the "L" should be 4 inches wide and as long as the shoe the boot will be covering. The stem of the "L" should be 6 inches wide and 8 inches tall.
Lay the "L" shaped felt pieces directly on top of each other. Sew them together along the front and inner edges, leaving the base and back of the "L" shape open.
Sew a strip of Velcro to each of the back open edges of the boot. Turn the boot right side out and draw any desired designs onto the boot using puffy paint.
Repeat the process for the other boot.