Things You'll Need
Used army combat boots

Newspaper

Face mask

Spray paint

Painter's tape

Colored shoe laces

Clear acrylic spray sealant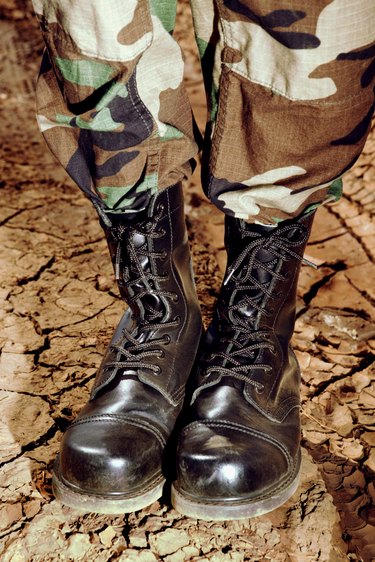 Professional wrestlers are an unusual combination - part athlete and part entertainer. The clothing of a professional wrestler reflects this mixture. Boots in particular are both sturdy and supportive as well as flashy and brightly colored. They are designed both to protect the wrestler's feet and match his bright, attention-grabbing costume. Whether you are dressing up like a professional wrestler for Halloween or to participate in an amateur wrestling league, complete your outfit with a flashy pair of sturdy wrestling boots.
Step 1
Remove the laces from the boots. Set them outside on an unfolded newspaper. Crumple up newspaper to place inside of the boots to protect them from spray paint. While wearing a face mask, spray paint the outside of the boots and the tongue in a color that matches your costume. Consider bright green, yellow, red, blue purple or a glittery black or silver for your color. Allow the paint to dry for about three hours and apply a second coat.
Step 2
When the boots are dry, lay them on their sides and paint the soles. Paint them, and the shoelaces the same or a contrasting, yet equally bright and complementary color. If painting in a different color than the rest of the shoe, cover the boots in painter's tape to protect them from being colored. Allow the soles to dry and apply a second coat.
Step 3
Remove the painter's tape. If desired, use acrylic paint and a small paintbrush to add details to the sides and backs of the boots such as red or orange flames on a pair of bright yellow boots or a silver lightning bolt on the sides or back of a pair of black or purple boots.
Step 4
Spray a layer of acrylic spray sealant onto the surface and soles of the boots to protect the paint from chipping and fading. Allow the sealant to dry for one hour and apply a second coat. Once the second application dries, lace up the boots.
Tip
Purchase a pair of used army combat boots from a military surplus store. Get a pair of boots that fits your feet well and which lace up to mid-shin or about three to four inches below your knee.