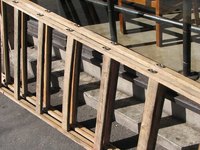 Aluminum extension ladders are an incredibly useful tool for the homeowner, or for anyone in the home repair business. These tools allow you to reach all corners of your home or building project, and they're incredibly versatile and easy to carry. When an extension ladder is bent during an accident, you don't have to throw away the useful tool. In some cases, you can repair a bent aluminum extension ladder and reuse it for many more years.
Things You'll Need
Aluminum extension ladder
Vise
Hold the ladder in place using a vise or an assistant. For small bent sections, hit the damaged area with a hammer, adjusting the size of the hammer to reflect the seriousness of the bend. If you wish to prevent cosmetic damage to the ladder, wrap the surface in duct tape before you strike it.
Press the ladder against the corner of a strong building or other metal edge and push against both sides of the ladder to repair larger bends. You will need multiple assistants for this method.
Wrap any holes or sharp metal edges with strips of rubber, and secure them with duct tape. This will prevent the edges from becoming a hazard.