Things You'll Need
Beading wire

Pliers

1 star charm

2 sets of 3 consecutive beads

2 transparent or white beads

1 wood bead

1 fish charm

1 large bead

1 black bead

1 cross charm

1 red bead

1 blue bead

1 heart bead or charm

Bracelet clasp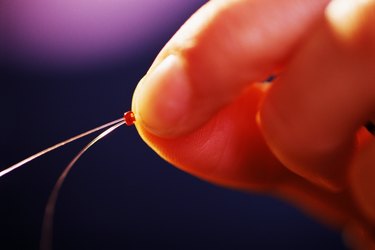 The story of Jesus Christ is central to the Christian faith, and Jesus himself commanded his followers to share that faith. A Story of Jesus bracelet, with its charms and beads representing the birth, life and death of Jesus, can guide its wearer in sharing her faith with others. The bracelet can also be given as a gift, along with the text that tells the recipient what each component represents.
Step 1
Cut the beading wire to the desired length for the bracelet. The wire should be long enough to fit around the recipient's wrist, plus two inches.
Step 2
String the Star charm onto the beading wire, representing "The Star."
Step 3
String three consecutive beads, representing that the star "guided three Wise Men." This set of three beads should be different from the second set of three beads, which will be strung in a later step.
Step 4
String on a white or transparent bead to represent that the three Wise Men were guided "to the birth of the New King."
Step 5
String on the wooden bead to represent that "his father was a carpenter."
Step 6
String on the fish charm to represent "and he a fisherman."
Step 7
String on the large bead to represent that "he was accompanied by 12 apostles."
Step 8
String on the second transparent or white bead. This tells of the apostles "that helped him spread his word."
Step 9
String on the black bead next, for this part of the story: "But on a dark day of envy and treason."
Step 10
String on the cross charm to represent that on that dark day "he was crucified."
Step 11
String the red bead. This shows that he was crucified "and shed his blood for our salvation."
Step 12
String the blue bead as a representation of "he roused to the heavens."
Step 13
String the second set of three consecutive beads to symbolize the line: "And now sits as the son, along the side of the Father, and the Holy Spirit."
Step 14
String on the heart bead or charm to represent the story's last line: "And did it all out of love."
Step 15
Attach the clasp by stringing the beading wire through the small hole on the clasp and tying it in a double knot. Attach the other end of the wire to the other side of the clasp in the same way.
Tip
You can get the materials needed at most craft stores and on most websites dedicated to beading jewelry.
See the Resource section for an image of one example of this bracelet, as well as the story in its entirety.