Things You'll Need
Clear glass Christmas ball

Teaspoon (optional)

Silver acrylic paint

Bright acrylic paint, color of your choice

Egg carton

2-inch cinnamon stick

Newspaper

Hammer

Tablespoon

Dried lavender

Dried rose blossom

Essential oils-cinnamon, lavender, and rose

Silver Christmas tree tinsel

Scissors

Craft glue

Fishing line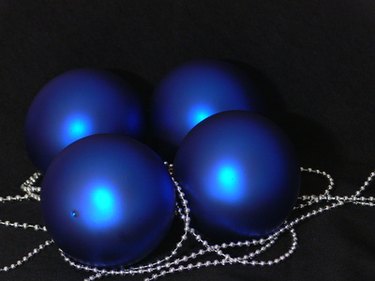 Witch balls have been present for centuries and are considered a pagan symbol. Their purpose is to provide protection from evil spirits and thoughts, but they can also produce luck, much like the purpose of an upturned hanging horseshoe. Over the years these beautiful shiny glass balls have taken on other purposes. Glass Christmas balls are thought to have originated from witch balls and lovely garden gazing balls hold many of the same reflective powers. Make a homemade witch ball to protect your surroundings, entice luck in your direction, and add beauty to your home.
Step 1
Remove the decorative metal cap and wire hanger from a clear glass Christmas ball.
Step 2
Spoon, or squirt from the tube or bottle, approximately one teaspoon of silver acrylic paint into the ball. Tilt and roll the ball, allowing the paint to spread over the inner surface. When the silver paint has produced a scribbled web of color, choose a bright acrylic paint color of your choice and add to the ball in the same way. Repeat with additional drops of paint until you can no longer see through the ball.
Step 3
Place the ball upside down over an egg pocket in an egg carton and allow the excess paint to drip out. When the excess paint has drained, place the ball right side up and allow the paint to dry overnight.
Step 4
Place a 2-inch stick of cinnamon between several layers of newspaper. Pound the newspaper with a hammer to break up the stick. Pour the cinnamon bits into the ball for the protection element of the witch ball. Pour a tablespoon of dried lavender into the ball for happiness. Crush the dried rose petals from one rose blossom in your hands and add into the ball for luck. Add a couple of drops of essential oils of one or more of the herbs already put in the witch ball.
Step 5
Cut silver Christmas tree tinsel in various lengths and stuff them in the ball until the ball is full. The silver color of the paint and tinsel will reflect bad energy back on the sender, and the stringy tinsel will entangle the bad spirits.
Step 6
Place a dot of craft glue inside the ball's decorative cap and replace on the ball. Insert fishing line through the hanger and hang the ball in a doorway, window, garden, or wherever you desire.