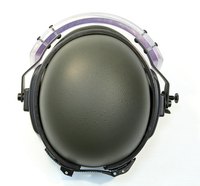 Kevlar is a durable, synthetic fiber manufactured by DuPont. The material can be used for many applications. One popular use for Kevlar is in helmets, typically for the military but also for motorcyclists and cyclists. Having a Kevlar helmet painted by a professional can potentially be quite expensive. However, if you are artistically adept, or if the design you want painted is simple, doing the job yourself can save you quite a bit of money.
Things You'll Need
Kevlar helmet
Sandpaper
Soap
Water
Towel
Acrylic spray enamel paint
Respirator mask
Goggles
Paper
Pencil
Scissors
Masking tape
Newspaper
Preparation
Remove any accessories from the helmet, such as a face mask or chin strap. Using soap and water, wash the helmet thoroughly. Dry the helmet with a towel.
Sand the helmet evenly with the sandpaper. Brush and wipe off any excess material.
Draw design that you want painted on the helmet using the paper and pencil. Once design is drawn, cut the design out of the paper with the scissors, creating a template. Repeat the process for additional designs.
Painting
Lay down newspaper in well-ventilated area. Put on the goggles and respirator mask. Place Kevlar helmet on the newspaper.
Using acrylic enamel spray paint, spray entire helmet evenly with a base coat. Allow helmet to dry for one hour and repeat. This step is only necessary if you want to paint the entire helmet a different color.
Place template on desired location of helmet and tape to the surface. Spray paint over the template, assuring that paint is not going beyond paper surface. Allow to dry for one hour and repeat the process.
Remove the template from helmet after paint has dried for one hour.